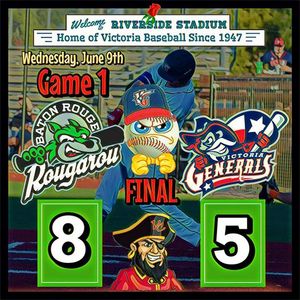 Generals Drop a Tough Battle
June 9, 2021- The Victoria Generals drop tonight's ball game against the Baton Rouge Rougarou by a score of 8-5.
The Generals got out to a fast lead thanks to a Chase Sanguinetti two-run shot. After an inning of no scoring by either side, in the top of the third the Rougarou took the lead 4-2 thanks to four straight extra base hits by Hunter LeBlanc, Nick Cupp-Allen, Cayle Webster, and Zavier Moore. The Generals would not be able to recover.
Reece Easterling, tonight's starting pitcher, takes the loss tonight going the first three innings giving up five hits, four runs and fanning two. Bo Dallas, Mason Longoria, Derrick Curry, Chris Kean, Chris Kean, Chris Foster, and Hunter Kloesel all combined to finish the game. Generals Pitchers combine for fifteen strikeouts, eight walks, two hit-by-pitches, and ten hits.
Sonny Brandwood got the start and takes the win going three innings, giving up four hits, three earned runs, striking out two, and walking one. Allan Thorington does a fantastic job in relief going three and two-thirds innings pitched giving up two hits, two runs, two walks, and struck out four.
Nate Kujawski goes one and a third striking out three. Gage Bihm gets the save for the Rougarou striking out the side in order to finish the Generals off.
The Baton Rouge Rougarou combined for ten hits thanks to a multiple hit game from Cayle Webster, Zaviar Moore, and Brandon Heidal. Heidal, Moore, Webster, Cupp-Allen, Tayten Tredaway, Regan Paulina, and Cole Plowman all had RBI's on the day.
Chase Sanguinetti was most of the Victoria Generals offense today. He tallied two hits, three RBI's, and a homerun to his credit. Sam Benjamin had two hits. Ethan Bedgood and Steven Rivas got the other two hits tonight.
The Generals have an action packed final three games of this home stand. Thursday, June 10th will be our first Thirsty Thursday of the season with $1 draft beer on the Dornburg Party Deck all game long! Friday June 11th will be another Free Ticket Night presented by Atzenhoffer and the final game of the series will be Warrior's Weekend Night at the Park with our annual jersey auction presented by Scherer Kubota. 100% of the money raised during the live auction will go to Warrior's Weekend. This will also be a Free Ticket Night presented by Compadres Design with Free admission for everyone.