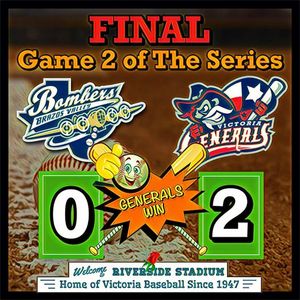 Generals Pitchers Combine for a Shutout in First Win of the Year
June 2nd 2021- It was a pitching battle between the Victoria Generals and the Brazos Valley Bombers tonight. The Generals win their first game of the season by a score of 2-0.
Reece Easterling got the start for the Generals tonight going five scoreless innings, giving up two hits, and fanning two. Gavi Coldiron gets the win in relief going two innings, striking out two, and giving up one hit. Bo Dallas gets the hold coming in for the eighth inning fanning two of his own. Josh Salinas gets his first save of the year striking out one. Generals Pitchers combined for seven strikeouts tonight, and a shutout.
Joseph Menefee gave the Bombers three perfect innings of work with four strikeouts to his credit. Jake Stmiska takes the loss for the Bombers going one and a third innings gives up one hit, two runs, and one earned run. Jack Brinly and Rome Shubert finished the game for Brazos Valley combining for three and two thirds of an inning, striking out three, and giving up one hit.
Chris Kean broke up the Bombers perfect game in the bottom of the sixth with a single up the middle. Tuffy Dornburg would be hit by a pitch putting two men on with no one out. Cade Manning would lay down a perfect sacrifice bunt to move the runners to second and third with one out. Sam Benjamin would come up with two out and would beat out the play at first that would be ruled and error scoring Kean and Dornburg as the Generals would take a 2-0 lead as the Generals bullpen would slam the door on the Bombers to take the 2-0 win.
The Generals start a four game road trip tomorrow, June 3rd, where they take on the San Antonio Flying Chanclas, Thursday and Friday. The Generals will head to Baton Rouge on Saturday and Sunday to take on the Rougarou. The Victoria Generals will be back home at Riverside Stadium for a four game home stand, starting next Wednesday, June 9th. That will be a FREE TICKET NIGHT presented by Victoria College! First pitch at 7:05.