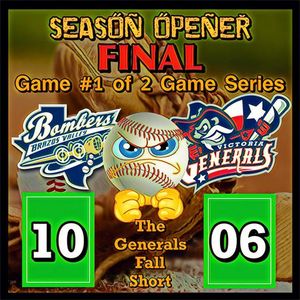 Generals Drop Home Opener
June1, 2021- The Victoria Generals bats were alive tonight, unfortunately the Brazos Valley Bombers bats were hotter. The Generals drop their third straight in a 10-6 loss in the home opener.
The Brazos Valley Bombers got things started in the second inning when Alex Vegara singled on a 2-1 count, scoring one run. The Generals bounced back and took the lead in the bottom of the fourth to take the lead 2-1 thanks to a Hayden Johnson two-run shot. Yet, the Bombers jumped back ahead thanks to a five-run top of the fifth. From then on, the Generals were playing catchup. The Generals bats would not be done though, scoring another pair of runs in both the fifth and sixth innings. However with a run in the top of the sixth and a three spot in the top of the seventh was too much to handle for the Generals. The Generals end with eight hits; just two less than the Bombers ten. The final score 10-6 in favor of the Brazos Valley Bombers.
Hutchins led things off on the mound for Brazos Valley Bombers. The pitcher allowed three hits and two runs over three and two-thirds innings, striking out five. Mason Bradenberger, Grant Wood, Mitch Turner, and Zach Poe also pitched for the Bombers. Mason Bradenberger gets the win and Mitch Turner gets the save for the Bombers.
Brett Brown was on the pitcher's mound for Victoria Generals. He goes four innings, allowing one run on two hits and striking out five. His ends in a no-decision. Matthew Krall, Derrick Curry, Chris Foster, Mason Longoria, and Hunter Kloesel finished the game. Krall gets the loss giving up five runs and four earned in two-thirds of an inning.
The Generals will be back in action tomorrow night for game two of this two-game opening series against the Brazos Valley Bombers. Wednesday night is Victoria Young Professionals Night and also Scouts Night. Gates open at 6:00pm with first pitch at 7:05.