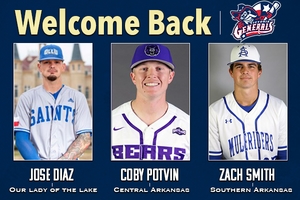 Familiar Faces Return to the Generals 2020 Roster
April 30, 2020 – With the 2020 Texas Collegiate League season less than two months away, the Victoria Generals continue adding to their upcoming roster. Former Victoria Generals Jose Diaz (Our Lady of the Lake), Coby Potvin (Central Arkansas), and Zach Smith (Southern Arkansas) will all return for another season as the Generals hit the field in early July. All three of these players gained another season of eligibility with the cancellation of their 2020 season due to the COVID 19 virus, thus making them eligible for a Texas Collegiate League roster.
"We're very fortunate to have these guys back for another season with the Generals," commented Mike Yokum, the VP/GM for the Victoria Generals. "Their strong leadership will have a positive impact on the team on and off the field, especially with the younger players. They know what it takes to win in the TCL and will pass their expertise on to our first year players."
Jose Diaz, a native of Pinar del Rio, Cuba, will take field for the Generals in an unfamiliar position this season as a pitcher. Last season, Diaz was used primarily as an outfielder at Our Lady of the Lake but this season they made the move as he takes on the closer role on the mound. In the shortened 2020 season for OLLU, Diaz appeared on the mound in 10 games, 10.2 innings, allowing only five hits, 15 strike outs, one run allowed and an earned run average of .66 on the season. His record on the shortened season was 1-0 with 8 saves. His eight saves was tops in all of NAIA. Diaz also played a big part in their offense appearing in 25 games, with 32 hits, eight doubles, a triple, two home runs, 16 RBI's, 11 walks, 11 stolen bases and a team leading .405 batting average.
Coby Potvin, a Belton, TX native, will make his third season with the Generals in 2020. Potvin made his first appearance on a Generals roster in 2016 appearing in 16 games for the Generals. Potvin's best season as a General came last season appearing in 44 games with 56 hits, seven doubles, three triples, a home run, 26 RBI's, 36 runs scored (team lead), 22 walks and a .344 batting average. Potvin's outstanding season for the Generals earned him the Generals Play of the Year honor.
Zach Smith, a right-handed pitcher from Katy, TX, will return for his third season with the Generals. In his first season in 2018, Smith appeared in 16 games (31.1 innings) with 24 strike outs while compiling a 3-1 record with one save. Last season (2019) Smith appeared in 16 games (20.2 innings) with 35 strike outs, only seven walks and a 3.48 earned run average. Smith transfer from Central Arkansas to Southern Arkansas this past season.
The Victoria Generals will play an abbreviated 24 game season with 12 of the games being played here in Victoria at Riverside Stadium. The Generals are scheduled to open the 2020 season on July 3rd as they take on the Brazos Valley Bombers. The 2020 schedule can be found on the Generals website at www.victoriagenerals.com. Follow the Generals on Facebook and Twitter for further updates on the upcoming season and any changes that may occur due to the Coronavirus.
The Generals are also currently looking for additional Host families for the Victoria Generals players. This is a great way to get closer to the action. If you are interested or need additional information, please call 361-485-9522.