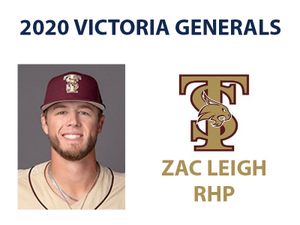 Division I Ruling Land Former General Zac Leigh
April 1, 2020 – With the 2020 Texas Collegiate League season less than two months away, the Victoria Generals continue adding to their upcoming roster. Former Victoria Generals pitcher and Victoria East High School standout Zac Leigh is set to join the 2020 roster after an NCAA ruling on Monday. This ruling would allow seniors another year of eligibility with the cancellation of their 2020 season due to the COVID 19 virus, making them eligible for a Texas Collegiate League roster.
"We look forward to having Zac back with the Generals and expect him to continue the success he was having at Texas State this season," commented Mike Yokum, the VP/GM for the Victoria Generals. "Zac had an outstanding freshman season with the Generals in 2017 and would definitely be an asset to our pitching staff as we take the field this Summer. His leadership and on-field experience will really be a key part in helping develop our younger players."
Leigh was off to a great season at Texas State before the season was cut short in early March when the NCAA suspended and later cancelled all Spring sports. Leigh made four starts with 33 strikeouts, 11 walks, a 1.88 earned run average, while holding the opponent to a .171 batting average against. His 24 innings on the season was a team high for Texas State. Leigh was ranked 25th in the nation among senior pitchers this past week by D1baseball.com.
Leigh had an outstanding freshman season with the Generals in 2017 appearing in eight games (four starts) with 43 strikeouts, 11 walks, with a 2.49 earned run average and a 3-1 record on the season. In three seasons plus the shortened fourth season at Texas State, Leigh appeared in 55 games (133.2 innings) with 118 strikeouts while compiling an 8-5 record with six saves. In his final appearance this season, Leigh was dominate going six innings, allowing just four hits with 11 strikeouts, two walks and a 5-0 win for Texas State.
The Victoria Generals will play 48 games with 24 of the games being played here in Victoria at Riverside Stadium. The Generals are scheduled to open the 2020 season on May 28th as they hit the road against the Texarkana Twins. The Generals home opener will be on Sunday, May 31st as the defending TCL Champion Brazos Valley Bombers come to town. The 2020 schedule can be found on the Generals website at www.victoriagenerals.com. Follow the Generals on Facebook and Twitter for further updates on the upcoming season and any changes that may occur due to the Coronavirus. Our office is closed in compliance with the state mandate, however, if you need any information you may call 361-485-9522 and we would be happy to answer your questions.
The Generals are currently looking for additional sponsors for the 2020 season. There are great sponsor packages still available if your business is looking for a way to advertise your support for the Generals. The Generals are also currently looking for additional Host families for the Victoria Generals players. If you are interested or need additional information, please call 361-485-9522.