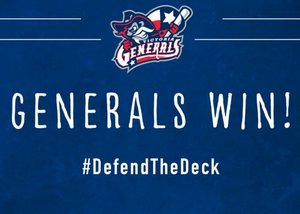 August 4, 2019 – The Victoria Generals came up with their third straight victory, defeating the Brazos Valley Bombers 5-2.
The Generals would jump out to an early lead in the first inning when Marshall Skinner singled to the second baseman and Payton Robertson scored from second due to an error by the Bombers second baseman Logan Satori.
The Bombers would tie things up in the bottom half of the third inning when Chase Kemp grounded into a fielder's choice, scoring Satori.
The Generals broke things open in the fifth inning when Marshall Skinner connected on a no doubt grand slam to left field to give the Generals all the runs they would need tonight. The home run marked Skinner's first of the summer since joining the Generals.
Max Page got the start and the win tonight for the Generals.. Page went six innings giving up three hits, five walks, nine strikeouts and only surrendering one earned run. Page got the win tonight in his first start of the summer for the Generals.
Brent Hebert and Zach Smith came in for relief and shut the door on the Bombers hopes of coming back.
Christian Vega took the loss in relief tonight for the Bombers. Vega went two innings giving up three hits, one walk, striking out one and allowing four earned runs.
The Generals finished the night with six hits and were very clean defensively not committing a single error.
The Generals will be back in action tomorrow night as they look to extend their current three game-winning streak against the Brazos Valley Bombers in College Station. The Generals will then head to Texarkana to face the Twins in a two game series, taking place on Tuesday and Wednesday. The Generals will finally return home on August 8th when they play host to the Acadiana Cane Cutters in what will be the final two games of the regular season for the TCL. No broadcast will be available for the remaining road games, so please tune in to GameChanger or Twitter if you would like to stay updated on the Generals!