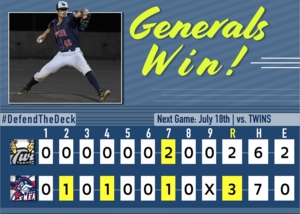 July 17, 2019 – The Victoria Generals grabbed the lead late and held on to beat the Texarkana Twins 3-2 on Wednesday night.
The Generals got on the board first when Jose Diaz hit an infield single scoring Kyle Moos from third base giving the Generals a 1-0 lead in the second inning. The Generals would follow that up with a solo home run from Payton Robertson in the bottom of the fourth inning to extend their lead to 2-0.
The Twins would not go away easily as Christian Boulware hit a two RBI double to left center field off of Max Page to get the Twins back to even in the bottom of the seventh inning.
The Generals would grab the lead for good when Jordan Johnson grounded into a fielder's choice in the bottom half of the seventh inning giving the Generals all the runs they would need.
The General's pitching was top notch today as Jonathan Jimenez, Clayton Price, Max Page, AJ Irvin and Zach Smith all had appearances in relief only allowing two runs over the seven innings pitched.
AJ Irvin picked up the win in relief for the Generals, he lasted one and one-third innings, allowing two hits and zero runs while striking out one and walking zero.
Alex Canul got the start tonight for the Generals. Canul went two innings striking out two and walking one, while giving up zero runs.
Brian Hamilton took the loss tonight for the Twins. Hamilton allowed five hits and two runs over five innings, striking out three.
The Generals pitching tallied 12 strikeouts tonight compared to the opposing Twins who struck out only four.
The Generals will be back in action tomorrow night as they host the Texarkana Twins in the finale of a two game series. Be sure to make it out tomorrow night as the Generals will not be back at home until Tuesday July, 23rd when they host the Brazos Valley Bombers. Tomorrow night's ball game is Thirsty Thursday so all draft beer on the Compadre Deck will be one dollar. We hope to see everyone there for the series finale!