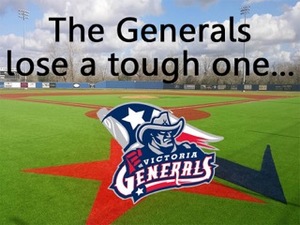 YOUNGSVILLE, La. - The Victoria Generals' four-game winning streak is over.
The Generals dropped a 5-2 decision to the Acadiana Cane Cutters in a Texas Collegiate League game at Fabacher Field Tuesday night.
The Generals' (11-9 second half) loaded the bases in the ninth inning and scored one run off a Mac Odom RBI single, but didn't bring another run across the plate to steal a win.
The Cane Cutters (9-9) scored two runs in the bottom of the second off a passed ball by Generals starter Michael Brawner.
The Cane Cutters scored another run off a passed ball in the bottom frame of the fourth to take a 3-0 lead.
The Generals offense scored its first run of the game in the top of the seventh, when Nate Alberius hit a sacrifice fly to score Will Watson.
The Cane Cutters capitalized on a throwing error in the bottom of the eighth, scoring two runs to take a 5-1 lead.
Brawner gave up eight hits and three runs in five innings of work, while striking out three for the Generals and taking the loss.
Alberius went 1-for-3 with a RBI, and Nick Anderson went 2-for-4 for the Generals.
The Generals will wrap up the two-game series against the Cane Cutters at 7 p.m. Wednesday before returning home for Thirsty Thursday with $1 draft beer all night on the Compadres Design Party Deck. Friday will be a Free Ticket Night presented by Caterpillar! Everyone will be admitted free!! No ticket required! Pack the stands and support the Generals as they make their run for the playoffs!