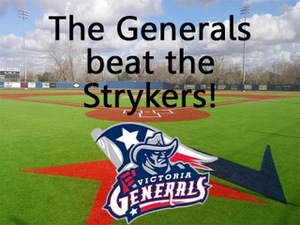 Victoria Generals Sweep the Woodlands Strykers in a Two-Game Series at Home
The Generals were coasting the whole game until the top of the ninth inning as things got interesting, but they pulled out an 8-7 win at Riverside Stadium, Sunday.
The Generals were up the whole game and led 8-3 at the start of the ninth, but soon found their way into trouble as the Strykers scored four runs.
Braxton Smith came into the game with runners on second and third after Lance Moszkowicz gave up four runs on four hits and one walk. Smith came in and after starting off by hitting the first batter settled down and was able to give out of the jam and earned the save.
The Generals were led early by good pitching from Michael Brawner who pitched six innings and gave up only three runs on four hits, three walks and nine strikeouts to get the win. Kenny Saenz and Triston Busse each pitched one inning of scoreless relieve.
The Generals were led by Levi Zents and Sam Mahofski who each had one hit, but made them count, as each had two RBIs. Pedro Barrios and Chace Sarchet also contributed scoring a RBI each.
The Generals look to continue their success as they hit the road to face the Brazos Valley Bombers tomorrow for the start of a two-game series.
The Generals return home Wednesday, July 6 as they host the Bombers in a two-game series. First pitch starts at 7:00 P.M.
The Generals' July 7 game will be Victoria College Night at the Park. Present your Victoria College ID for discount tickets for the game presented by Victoria College.