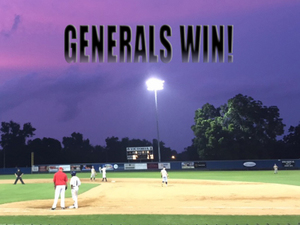 Bryce Brandl's sixth-inning triple proved to be the game-winning hit as the Victoria Generals beat the Texas Marshals 3-2 on Sunday night in Plano.
The Generals improved to 24-14 in the Texas Collegiate League and have won 10 of their last 11 games. The Generals wrapped up the longest road trip of the season with a 5-1 record as they remain at 11-3 on the second half of the TCL season.
Brandl had the only multi-hit performance for the Generals, going 2-for-4 with the game-winning RBI.
James Swan got the win after tossing four innings of shutout relief for the Generals. Starter Ryan Williams threw the first four innings and gave up two runs on six hits.
Brett Burrington conceded a one-out double in the ninth inning but retired the next two batters to notch the save.
The Generals fell behind 2-0 after the first inning before tying the game in the third. Adam Goss' RBI-double cut the Marshals' lead to 2-1, and Romeo Cortina followed with a single that scored Goss and tied the game at 2.
The Generals return to Riverside Stadium on Tuesday with FREE TICKET TUESDAY presented by Invista. Everyone is admitted into the ball park FREE. First pitch is 7:05.