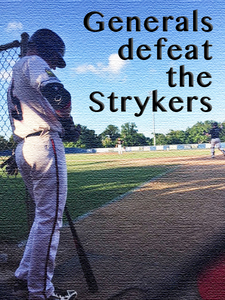 Victoria, TX – The Generals capitalized on a seven run seventh inning and fine pitching performance from Ryan Williams to move their winning streak to five games and defeat the Woodland Strykers 10-2.
It was a story of fine pitching over the first four innings for both sides as Matt Smith claimed the first hit on a one out single in the fourth. There were also a combined four errors at the start but two sensational defensive plays by Adam Goss diving in left-center and Donivan Lopez stopping a ball up the middle and a nice scoop by Dakota Phillips at first.
Three runs scored for the Generals in the fifth. The inning started with back to back singles from Caden Williams and Jace Reese. Reese came into score on Darien Simms' single and Adam Goss followed with a single of his own, plating Lopez. Simms scored the third run of the inning on a fielder's choice from Johnathon Reyes.
Strykers brought across their first run in the top of the sixth after a single from Brian Deaver and a double from Garrett Hope put runners on third and second. Lance Miles grounded out to Lopez at short, bringing in Deaver. Nate Van Dyke cut the General's lead in half in the top of the seventh with a solo home-run over the scoreboard in left field.
Lance Moszkowicz took over for Williams, from Victoria, on the mound after 6 and a third innings of work. Williams pitched a solid game, earning the win and allowing two runs while striking out 3 Stryker batters.
The Generals struck back in the bottom of the seventh, scoring seven runs on 4 hits and 2 errors to put the game out of reach.
James Swan came in to close the game out for the Generals, pitching a three up three down inning to seal the Generals 10-2 victory.
Ryan Williams earned the win for the Generals, while Raul Baduel took home the loss for the Strykers.
The Generals will head to Bryan tomorrow for the first game of a two game set with the Bombers before returning home to play the Acadiana Cane Cutters on Free Ticket Tuesday sponsored by Fastop/Ozarka.