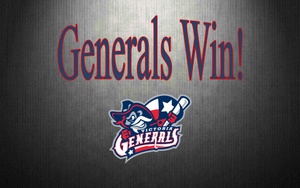 The Victoria Generals' late-game rally began with a walk to Jonathan Reyes, so it was only fitting that it ended with a walk to him, too. Reyes drew a walk-off bases-loaded walk in the bottom of the 10th inning to give the Generals a 5-4 Texas Collegiate League victory against the Woodlands Strykers at Riverside Stadium on Thursday night.The Generals (5-6) trailed 4-0, and 4-2 in the ninth when Reyes entered the game as a pinch hitter. He was issued a walk and scored two batters later when Adam Goss doubled to make it a one-run game.
"My approach was just looking for a pitch I could handle," Reyes said. "I was going to be patient. I was going to do everything I could to get on base, and I was going to use my height to my advantage."
Goss would score and tie the game when Pedro Barrios hit a deep single in the ensuing at bat. The game would go onto extras, and consecutive walks to Dakota Phillips and Jacob Spring, and a single by Bryce Brandl loaded the bases for Reyes. Reyes displayed his patience and gave his team its fourth consecutive victory.
"Right now, we're rolling, we're feeling pretty good," Reyes said. "We have good team chemistry, we had some new guys come in and bring some energy."
Phillips hit his second home run in three nights when he hit a solo shot in the seventh. It was his third home run of the season. Phillips recorded his second RBI when he too drew a bases-loaded walk in the eighth to bring the Generals within two of the Strykers (6-3).The Strykers showed no difficulty hitting the ball, as they recorded 18 hits. But thanks to a stingy Generals defense that turned a couple of double plays and made some nice plays at the plate, the Strykers weren't able to turn those base knocks into runs.
The Generals bullpen also played a large role in the victory, as four pitchers combined for five innings of shutout baseball after starter Dakota Mills exited the game after the fifth.
Written by Antonio Morales at the Victoria Advocate