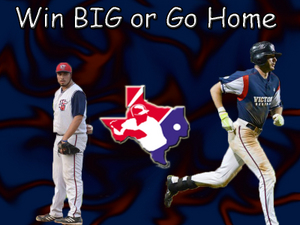 Generals Strengthen Roster with Players from Rice and Stephen F. Austin
April 8, 2015 – With the 2015 Texas Collegiate League season less than two months away, the Victoria Generals have signed several players to bolster their roster. Chad Tatum, a freshman at Rice University, Austin Smith and Chris Hassold , both pitchers at Stephen F. Austin will join the club as they take the field this Summer.
"We are extremely excited to land a quality player from Rice University as we build a stronger relationship with Rice going forward," commented Mike Yokum, the GM for the Victoria Generals. "Rice has a long standing tradition as one of the top baseball organizations in the Nation and it is awesome to have them as partners. "
Chad Tatum, a infielder from San Antonio, is in his freshman season at Rice University. Tatum was a standout athlete and student from Antonian College Preparatory High School where he not only excelled in athletics but maintained a 104.5 GPA, ranking him 18th out of 173 students. Tatum was a four-year letterman in both football and baseball, starting three years at quarterback and was named to the All-District team. Tatum also started for three seasons at second base and shortstop and was named first team All-District, team MVP, and Offensive Player of the Year. Tatum plans to attend Rice University and continue his baseball career while majoring in engineering.
Austin Smith, a junior transfer from North Central Texas College, is a right-handed pitcher for Stephen F. Austin from Little Elm, TX. Smith will join the Generals this summer as a situational pitcher with a side-arm delivery. Smith will typically enter the game in the middle innings as a set-up for the Generals closer.
Chris Hassold, a junior left-handed pitcher from Stephen F. Austin, will return to the Generals for his second season with the team. Hassold joined the Generals mid-season making four appearances, throwing seven innings with an earned run average of 1.28. Hassold, a native of Katy TX, attended Cinco Ranch High School where he was a two-year letterman and an All-District selection both his junior and senior year.
The Generals will begin their season on May 28, 2015 on the road against the Acadiana Cane Cutters in Lafayette, LA. The Generals will return home for their home opener on May 30, as they seek revenge against the Brazos Valley Bombers at 7:05pm at Riverside Stadium. Season tickets for all 30 of the Generals home games this season are on sale now. Fans can buy season tickets and team merchandise at the Generals team store located at 1307 East Airline Road, Suite H in the Town & Country Shopping Center, online at www.victoriagenerals.com, or by calling 361-485-9522.