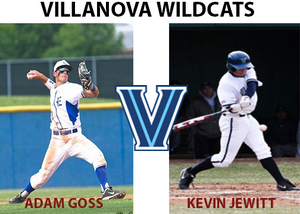 January 27, 2015 – With the 2015 Texas Collegiate League season right around the corner, the Victoria Generals have signed the first players from Villanova in team history. Adam Goss, a junior outfielder and Kevin Jewitt, a junior infielder will join the club as they take the field this Summer.
"We look forward to a fine partnership with the coaching staff at Villanova and expect great things from these fine young men this Summer," commented Mike Yokum, the GM for the Victoria Generals. "Both these young men have the potential to see plenty of game time this upcoming Summer as we embark on our seventh season in the TCL. "
Adam Goss, a native from Bellaire, TX, played in 48 games (34 starts) his sophomore season and finished up third on the team with a .394 on-base percentage. Goss drew 21 walks and was hit by a pitch a team leading 20 times to improve his on-base percentage. His freshman season, played in 46 games (30 starts) hit just .183, but managed 24 walks and finished the season fourth on the team with a .368 on-base percentage.
As a senior at Episcopal High School in Bellaire, Goss was named to the Southwest Preparatory School All-Conference Team and was a Houston Area 5A All-Star. Goss was chosen as his team's MVP his senior season batting .505 with a .600 on-base percentage and a .813 slugging percentage. Goss had 28 stolen bases to go along with 46 runs scored, 36 RBI's, 13 doubles, six triples and one home run.
Kevin Jewitt, from West Chester, PA, played and started in all 50 games his sophomore season, hit .272 with a .382 on-base percentage, 19 RBI's to go along with 31 runs scored. His freshman season at Villanova, Jewitt played in 47 games (38 starts) with a .312 on-base percentage, ranked second on the team with 11 doubles, scored 15 runs with 10 RBI's.
At Bayard Rustin High School, Jewitt received All-Chesmont first team accolades all four years, First Team All-Area as a junior and senior and was the Chesmont MVP as a junior while batting .551 with six home runs. Jewitt wrapped up high school with a career .446 batting average with 120 hits, 23 home runs, 93 RBI's, 95 runs scored with 29 doubles.
The Generals will begin their season on May 28, 2015 on the road against the Acadiana Cane Cutters in Lafayette, LA. The Generals will return home for their home opener on May 30, as they seek revenge against the Brazos Valley Bombers at 7:05pm at Riverside Stadium. Season tickets for all 30 of the Generals home games this season are on sale now. Fans can buy season tickets and team merchandise at the Generals team store located at 1307 East Airline Road, Suite H in the Town & Country Shopping Center, online at www.victoriagenerals.com, or by calling 361-485-9522.