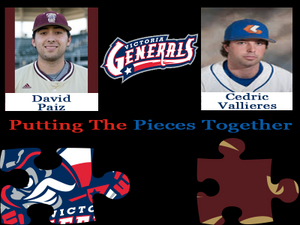 April 24,2014 – As the 2014 Texas Collegiate League season draws closer every day, the Victoria Generals continue to add players that will help them on their quest for another league championship. This week, the Generals have announced the return of David Paiz, Jr. and the addition of Cedric Vallieres, both from Texas State University.
"We are extremely happy to have both of these guys on our roster," commented Mike Yokum, the GM for the Victoria Generals. "David gives us veteran leadership and a solid stick to the middle of our line-up and Cedric will look to increase our run production."
David, a native of Austin, TX, had a solid season with the Generals in 2013 hitting .276 on the season with five doubles, one triple and four home runs and 22 RBI's. David is currently hitting .269 with six doubles and 14 RBI's at Texas State.
Prior to attending Texas State, David attended Texas Tech and as a freshman, hit .284 with 13 doubles, one triple, two home runs, 27 RBIs, 24 runs scored, and 21 walks while playing the outfield and serving as a designated hitter. Paiz was also a member of Tech's starting rotation during conference play. Paiz went 3-5 on the year with one save. He struck out 34 batters in 50.2 innings of work.
For his efforts, Paiz was a Collegiate Baseball Louisville Slugger Freshman All-American. He was also named to the All-Big 12 First Team and Big 12 All-Freshman Team. Additionally, Paiz was one of just two freshmen in the nation to be named to the John Olerud Two-Way Player of the Year Watch List.
"David is a very skilled and versatile player that has already had a great deal of success at the college level," commented Yokum. "It's always nice to have a player like David during the summer that can pitch and play multiple defensive positions."
Cedric, a native of Roxton Pond, Quebec, will join the Generals after spending last season at Galveston College. Last season, Cedric appeared in 46 games, hit .314 with 14 doubles, three triples, 22 RBI's and 11 stolen bases.
As a freshman at Clarendon College, Cedric appeared in all 57 games , hit .311 with 15 doubles, scored 40 runs with 45 RBI's and nine stolen bases. Clarendon College finished the season with a 38-19 record.
Cedric played last summer in the Alaska Baseball League for the Anchorage Bucs.
"We are extremely fortunate to have a great rapport with the coaching staff at Texas State,"commented Yokum. "Over the past five seasons Texas State has had a solid presence within our line-up and has contributed to the success we have attained."
Season tickets for the Victoria Generals 2014 season are on sale now as the Generals prepare for their home opener against the Texas Marshals on Tuesday, June 3 at 7:35pm at Riverside Stadium. Fans can buy season tickets and team merchandise at the Generals team store located at 1307 East Airline Road, Suite H in the Town & Country Shopping Center, online at www.VictoriaGenerals.com, or by calling 361-485-9522.