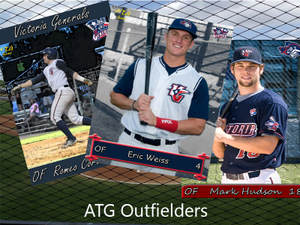 You voted, we listened…
Mark Hudson is your all time Victoria Generals Outfielder. As a junior at Sam Houston, Hudson joined the Generals in 2009. The Victoria native would go onto play two seasons with the Generals, while putting up big offensive numbers. In the Generals Inaugural season, He led the league with 49 hits and a .389 Batting Average. The highly talented Hudson finished his Generals career with a .360 BA, 83 H, 2 HR, 47 RBI, and 7 SB. Hudson would go onto finish his baseball career at Sam Houston.
Joining Mark Hudson as being one of the best all time Victoria Generals Outfielder is Romeo Cortina. As a freshman at Sam Houston, Cortina joined the Generals in 2013. Romeo would be joined by his twin Juan, which would make them the first brothers to ever play for the Generals. Cortina was a fan favorite and a clown in the locker room. However, when it came to being on the field he was all business. Cortina finished the season with a .290 BA, 53 H, 5 HR, 37 RBI, and 21 SB. Cortina is currently playing college ball at Alvin Community College and will be playing summer ball in the Cal Ripken League.
Finishing up the top three Outfielders is Eric Weiss.As a junior at Corpus Christi, Weiss joined the Generals in 2012. Weiss was signed by the Generals as an Outfielder, but was thrown behind the plate to catch a few games that year. Weiss played one season with the Generals while putting up a 288. BA, 45 H, 5 HR, and 27 RBI. He returned back to TAMCC and then would get drafted by the LA Angels in 2013. Weiss is currently playing in the Arizona Rookie League where he is a full time catcher.