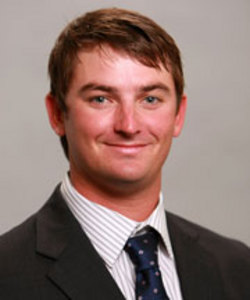 December 10, 2013 – The Victoria Generals announced today that Jonathan Burns has been named the team's fourth head coach in team history for the 2014 season. Burns is currently the pitching coach at Texas A&M University-Kingsville. Burns was the assistant coach last year and helped the Generals reach the championship series for the fourth time in team history.
"I am thrilled to have Jonathan back for his second season with our ball club,"commented Mike Yokum, Generals Vice President and General Manager. "Coach Burns did a solid job as an assistant coach last season developing a strong pitching staff. Our players learned a great deal from him last year and will continue to grow under his leadership."
Burns is currently in his second year as the pitching coach at A&M-Kingsville which is currently ranked #12 in the country in NCAA Division II baseball for the 2014 season.
The current A&M-Kingsville pitching staff is made up of several former Generals who had successful seasons under the tutelage of Burns. The staff is highlighted by ace right-hander Dallas Ponder, a native of Flatonia, who finished the season 10-2 sharing the Lone Star Conference lead in wins and was second with 88 strikeouts and a league best 88-1/3 innings. Ponder finished up the regular season with a perfect 9-0 record and earned his 10th win in the opening game of the NCAA South Central Regional Tournament. He was the LSC Pitcher of the Year.
Burns made a name for himself as a player at Cisco Junior College and St. Edward's University. Burns was an all-region performer at Cisco as he helped guide the school to its first ever regional appearance.
As a senior at St. Edward's, Burns established himself as one of the best closers in the country by posting a record of 7-4 to go along with six saves. Burns struck out 54 batters in 49.1 innings.
His success on the mound in college led to him being selected in the 26thround of the 2010 Major League Baseball draft by the Atlanta Braves. Burns played two seasons in the Braves minor league system before retiring to start his coaching career.
Burns spent a season at St. Edward's as a volunteer assistant coach in 2012 before becoming the pitching coach at A&M Kingsville last fall.
Burns and the Generals will kick off the 2014 Texas Collegiate League season on May 29thon the road against the Woodlands Strykers.
Season tickets for the Victoria Generals 2014 season are on sale now as the Generals prepare for their home opener against the Texas Marshals on Tuesday, June 3 at 7:35pm at Riverside Stadium. Fans can buy season tickets and team merchandise at the Generals team store located at 1307 East Airline Road, Suite H in the Town & Country Shopping Center, online at www.VictoriaGenerals.com, or by calling 361-485-9522.