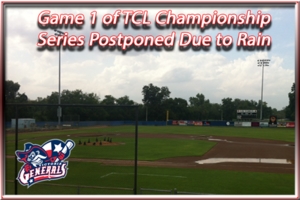 Game 1 of the TCL Championship Series between the Victoria Generals and Brazos Valley Bombers has been postponed due to heavy rain in Victoria this afternoon. The series format has been altered due to this postponement.
Game 1 of the series will now be played in Bryan at AMB Ballpark on Monday night at 7:05pm. The two teams will then meet in Victoria for Game 2 at Riverside Stadium on Tuesday night at 7:05pm. If a third game is necessary, it will be played in Bryan on Wednesday night.

All fans that had tickets to Sunday night's Game 1 in Victoria can redeem them at Game 2 which will be played on Tuesday night at Riverside Stadium.