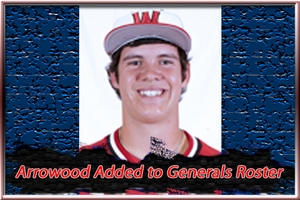 The Victoria Generals completed a two-game series sweep of the East Texas Pump Jacks on Friday night with a 9-8 walk-off win in the bottom of the ninth inning. The Generals bounced back to sweep the Pump Jacks after losing six straight games before the TCL All-Star Break.
The Generals (19-17) will look to make it three straight wins tonight as they take on the Woodlands Strykers at 7:05pm at The Woodlands Christian Academy.
The Generals have added first baseman and outfielder J.D. Arrowood from Wharton County Junior College to the roster to help them finish the final month of the 2013 summer season. The Generals still have 24 games remaining in the regular season and have already earned the number two seed in the post-season after finishing in second place in the first-half of the TCL season. The Generals will host a home playoff game on Saturday, August 10 at Riverside Stadium.
League rules prevented Arrowood from playing with the Generals from the start of the season as Generals head coach Stephen Flora was the assistant coach at WCJC when the summer started. NCAA and league rules prevent coaches from having players at their college on their summer ball teams. Flora has since left his post at WCJC and will be moving to a different school to coach in the fall. An announcement on Flora's new destination should come in the next week or two.
Arrowood had a standout freshman season at WCJC batting .330 with 10 doubles, one triple, 23 RBI, 18 runs scored, 13 walks, and two stolen bases. Arrowood also pitched two innings during the season without allowing a run.
Arrowood is a native of League City, Texas and attended Clear Springs High School.
The Generals next home game is Tuesday, July 16 against the Pump Jacks at 7:05pm at Riverside Stadium. It will be Free Ticket Tuesday presented by City Mortgage Group. All fans will get in for free on Tuesday night thanks to City Mortgage.