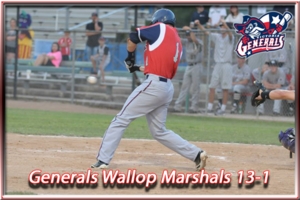 The Victoria Generals kicked off their two-game series with the Texas Marshals in Dallas with 13-1 win behind a brilliant outing by starting pitcher Lucas Humpal. Humpal tossed seven shutout innings, allowing just three hits with seven strikeouts to pick up his first win of the season.

The Generals jumped out to a 1-0 lead in the second inning as Hayden Vesely singled, stole second, and came into score on an RBI single by Aaron Morgan.

The lead increased to 4-0 in the fifth inning as J.D. Stinnett drilled a two-run triple to score Morgan and J.B. Moss. Stinnett would come into score on sacrifice fly by Brandon Hannon.

The Generals added four more runs in the seventh to make it 8-0. Moss scored on an RBI groundout by Romeo Cortina and Hannon scored on an RBI single by David Paiz, Jr. Jacob Hubert and Paiz scored later in the inning on a two-run double by Brett Hoffman.

The runs kept coming in the eighth for the Generals as they tacked on five more to make it 13-0. Hannon hit a two-run single to score Moss and Stinnett. Back-to-back errors by the Marshals left fielder and third baseman allowed three more runs to score in the inning.

The Marshals got a run back in the ninth to make the final score 13-1.
Moss led the way for the Generals offensively, going 4-for-5 with three runs and two stolen bases. Hannon, Paiz, and Morgan each had two hits apiece. Hannon and Hoffman both added three RBIs.

With the win, the Generals improve to 9-4 on the season and the Marshals fall to 4-9.

The two teams will play game two of the series on Friday night at 7:05m at Jesuit High School in Dallas.