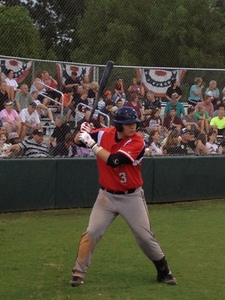 The Victoria Generals defeated the Woodlands Strykers by a final score of 7-5 on Thursday night in the opening game of the 2013 Texas Collegiate League season in The Woodlands.

The first three batters of the game reached base for the Generals in the top of the 1st inning before they took a 1-0 lead on a sacrifice fly off of the bat of David Paiz, Jr. (Texas State) which scored leadoff man Bandon Hannon (Emory) who had reached base after being hit by a pitch.

University of Texas pitcher Josh Urban was tabbed the opening day starter for the Generals and struck out the first batter he faced. However, the Strykers got the run back in the bottom of the first to even the score at 1-1 on an RBI single by Brian Smith.

The Strykers got another run in the 2nd and two more in the 3rd to take a 4-1 lead. But the Generals would respond with a three-run inning in the top of the 5th to knot things up at 4-4 on a sacrifice fly by Aaron Morgan (Ranger) and a two-run double by Mac Seibert (Meridian).

The Generals took the lead in the 6th inning as Drew Featherston (Texas A&M) scored on a passed ball and Kyle Thornell (McLennan) hit an RBI double to make it 6-4. Morgan would come in to score on a balk in the 7th to stretch the lead to 7-4.

The Strykers added a run in the bottom of the 8th on a throwing error by Morgan, the Generals catcher, to make it 7-5, but that would be the final score as Glenn Sparkman (Wharton County JC) closed the door in the 9th inning to pick up his first save of the season. Sparkman recorded two strikeouts in the inning.
Josh Urban was credited with the win after allowing just four runs in three earned runs in five innings with eight strikeouts. University of Texas relief pitcher Kirby Bellow worked three innings without allowing an earned run and struck out six.

Hayden Vesely, Kyle Thornell, and Mac Seibert each had three hits in the game to lead the Generals offense.

The Generals move to 1-0 on the season as the Strykers fall to 0-1. The Generals and Strykers will play game two of the series on Friday night in The Woodlands at 7:05pm. The Generals will then head to Lafayette, Louisiana for a two-game series with the Acadiana Cane Cutters on Saturday and Sunday.

The Generals home opener for the 2013 season is on Tuesday, June 4 at 7:05pm at Riverside Stadium. Magnet schedules will be given away to the first 1,000 fans in attendance.