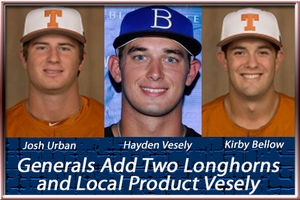 The Victoria Generals are just hours away for their first game of the 2013 Texas Collegiate League season. The Generals have made a few last minute additions to the roster in preparation for opening day.
Joining the Generals from the University of Texas are pitchers Josh Urban and Kirby Bellow. The Generals have also added Victoria native Hayden Vesely from Blinn College.
"This time of year is always crazy trying to figure out which players are going to arrive and when they're going to get here," commented Blake Koch, Victoria's vice president and general manager. "These three guys are quality additions that will help us on our quest to win another league championship."
Right-handed pitcher Josh Urban just completed his junior season at UT. Urban was one of the Longhorn's most reliable arms out of the bullpen, appearing in 16 games and posting a 1.51 ERA as he went 1-0 on the season. Urban struck out 21 batters in 35.2 innings of action.
Urban, a native of Dripping Springs, Texas, was drafted out of high school in the 19thround of the 2009 Major League Baseball draft by the Pittsburgh Pirates. Urban is expected to be selected again in this year's draft in early June. Urban pitched in the Cape Cod league following his freshman and sophomore years at UT.
"Josh will be our opening day starter for us against the Woodlands Strykers on Thursday," Koch stated. "Depending on what happens with the draft, he could be gone in a few weeks, or he could be with us all summer."
Left-handed pitcher Kirby Bellow will also make an appearance on opening day for the Generals. The junior left-hander appeared in five games this season for the Longhorns and struck out five batters in 3.2 innings to go along with a 4.91 ERA.
Bellow, a native of Nederland, Texas, was also selected in the MLB draft out of high school. Bellow was taken by the Cleveland Indians with their 29th round pick back in 2010.
"Kirby is in the same boat as Josh," Koch commented. "We won't know how long he'll be with us until after this year's draft."
Returning to the diamond this summer for the Generals is Victoria native Hayden Vesely. Vesely started the season with the Generals in 2012 before his season was cut short due to a shoulder injury. The sophomore from Blinn College hit .385 in four games last summer.
Vesely batted .322 this year at Blinn with 15 doubles, four triples, two home runs, 36 RBIs, 44 runs scored, and 13 stolen bases.
Vesely has signed to transfer to Texas A&M University – Corpus Christi next year.
"Hayden is very dynamic player that we're glad to have back with us this summer,"stated Koch. "He got off to a hot start last summer before he got hurt, so we're excited to see what he can do for a full season this time around."
The Generals depart from Victoria on Thursday morning to head to The Woodlands to take on the Strykers at 7:05pm in the first game of a two-game series to start the season. The Generals will then travel to Lafayette, Louisiana for two games against the Acadiana Cane Cutters before returning home to Victoria for the home opener.
The Generals home opener is on Tuesday, June 4 at 7:05pm at Riverside Stadium against the Texas Marshals. Magnet schedules will be given away to the first 1,000 fans in attendance courtesy of City Mortgage Group.
Season tickets for all 30 of the Generals home games this season are on sale now. Fans can buy tickets and team merchandise at the Generals team store located at 1307 East Airline Road, Suite H in the Town& Country Shopping Center, online at www.VictoriaGenerals.com, or by calling 361-485-9522.