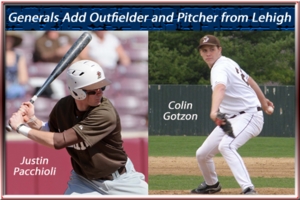 The Victoria Generals of the Texas Collegiate League have announced the signing of outfielder Justin Pacchioli and pitcher Colin Gotzon from Lehigh University to the 2013 roster. Despite the long distance between Lehigh, located in Bethlehem, Pennsylvania, and Victoria, the Generals continue to have success bringing down players from the northeast during the summertime.
In 2009 and 2010, the Generals had Andrew Russell and Brendan McGaheran from Lehigh. Russell and McGaheran were key contributors to the Generals' 2010 TCL Championship team.
"We experienced a lot of success when Andy and Brendan were with us back in 2009 and 2010," stated Blake Koch, GM of the Generals. "We're excited to renew our Lehigh connections this season to get Justin and Colin on board with us."
Justin Pacchioli, a junior outfielder from Easton, Pennsylvania, was ranked as the fifth-best Patriot League prospect for the 2013-2014 drafts by Baseball America prior to the season. Pacchioli is currently leading the team in batting average at .344 on the season. He has four doubles, two triples, 11 RBIs, 10 runs scored, and three stolen bases in 17 games.
Pacchioli hit .280 as a freshman last season with two doubles, six RBIs, 14 runs scored, and 11 stolen bases before being sidelined with an injury about halfway through the season.
"Justin is a very gifted athlete that has really good speed," commented Koch. "He is prototypical leadoff hitter and centerfielder who we'll rely on to score a lot of runs for us this summer."
Colin Gotzon, a junior right-handed pitcher from Bethlehem, Pennsylvania, has been the ace of the Lehigh staff this spring. Gotzon is 3-2 on the season with a 2.63 ERA. He has 28 strikeouts in 27.1 innings of work.
As a sophomore, Gotzon went 1-4 with a 5.97 ERA. He recorded 20 strikeouts in 31.2 innings.
"Colin has pitched really well this spring and is just starting to reach his potential on the mound," stated Koch. "We're expecting him to be a big part of our starting rotation this summer."
Season tickets for the Victoria Generals 2013 season are on sale now as the Generals prepare for their home opener against the Texas Marshals on Tuesday, June 4 at 7:05pm at Riverside Stadium. Fans can buy season tickets and team merchandise at the Generals team store located at 1307 East Airline Road, Suite H in the Landmark Shopping Center, online at www.VictoriaGenerals.com, or by calling 361-485-9522.