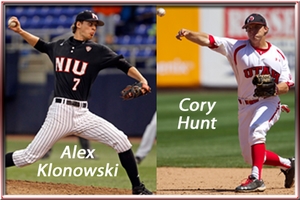 The Victoria Generals of the Texas Collegiate League have announced the addition of two returning players to their 2013 roster. Infielders Alex Klonowski and Cory Hunt are set to spend another summer in Victoria with the Generals.
"Alex and Cory are both great individuals on and off the field that represent the type of players we want to continue to have involved in our organization," commented Victoria's general manager, Blake Koch.
Alex Klonowski, a junior infielder and pitcher at Northern Illinois University, appeared in 44 games for the Generals in 2012. He hit .267 with seven doubles, one home run, 18 RBIs, and 27 runs scored. Klonowski also made 10 appearances on the mound with 3 starts. He posted a 3-1 record with one save and a 2.70 ERA. The right-hander recorded 18 strikeouts in 30 innings of work.
Klonowski is currently hitting .286 on the year with a triple, eight RBIs, and two runs scored at NIU. He has also made four starts on the mound this year with two complete games already under his belt. Klonowski is 1-3 with a 3.86 ERA. He has 19 strikeouts in 28 innings.
"Alex is a lead-by-example type of guy," said Koch. "We expect Alex to come in and fill that leadership role for us since he's been through a full season with us before and knows what to expect."
Cory Hunt, a junior infielder at the University of Utah, was a member of the Generals' 2011 team. Hunt appeared in 32 games, mostly at second base, despite battling injuries all summer. He hit .200 on the year with four doubles, seven RBIs, 15 runs scored, and six stolen bases.
Hunt has transitioned into the starting shortstop role at Utah where he is currently hitting .250 with a triple, a home run, five RBIs, five runs scored, and two stolen bases in ten games.
"Cory made some spectacular defensive plays for us back in 2011," commented Koch. "He can really flash the leather and has developed into an offensive threat now that he's fully healthy."
The Generals home opener is on Tuesday, June 4 at 7:05pm at Riverside Stadium against the Texas Marshals. Season tickets for all 30 of the Generals home games this season are on sale now. Fans can buy season tickets and team merchandise at the Generals team store located at 1307 East Airline Road, Suite H in the Town and Country Shopping Center, online at www.VictoriaGenerals.com, or by calling 361-485-9522.