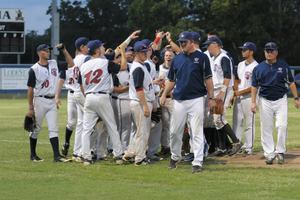 After winning the first game of the TCL Championship Series on Monday night in Victoria 5-3, the Generals traveled to Kilgore on Tuesday and came up short in game two against the East Texas Pump Jack, falling 7-4. The two teams will meet for the decisive third game on Wednesday night in Kilgore to see who will be crowned the 2012 TCL champions.
The Generals struck first in the ballgame as Chad Kruse came into score on a passed ball to give the Generals a 1-0 advantage in the first.
However, the lead was short lived as the Pump Jacks were able to tie things up in the bottom of the second. Walks were the story of the game for the Generals pitching staff as they issued 12 free passes to the Pump Jacks in the ball game. Generals starting pitcher Trae Davis gave up three runs on three hits with five walks and just one strikeout in his four innings of work.
The Pump Jacks took a 2-1 lead in the bottom of the third on an RBI double by Whitt Dorsey.
The Generals responded with a run in the top of the fourth on an RBI triple by Brandon Tierney to score Alex Klonowski who had singled to lead off the inning.
The Pump Jacks picked up an unearned run in the fourth on an error by Generals second baseman Carter Mangum that would have ended the inning.
The Pump Jacks then added another in the seventh on a passed ball by catcher Blue Hybner who seemed to have been crossed up on the pitch by Kyle Chaskin. Chaskin gave up three runs in two innings on three hits with a walk and a strikeout.
In the bottom of the eighth, the Pump Jacks put the game out of reach with three runs to make the score 7-2.
The Generals tried to rally in the ninth off of Pump Jacks closer Jason Jester, but came up just a little short. Chaskin led the inning off with a walk, advanced to second on a wild pitch, and scored on an RBI triple down the right-field line by Trent Wagner. Wagner would come around to score on an error by the Pump Jacks shortstop to make the score 7-4. With one out, the Generals sent the tying run to the plate, but Jester then settled down and got Mangum and Patrick Duncan both to fly out to end the game.
Box Score: http://tcl-generals.bbstats.pointstreak.com/boxscore.html?gameid=109824

Article: http://www.advosports.com/news/2012/aug/15/generals_baseball_0815_185246/