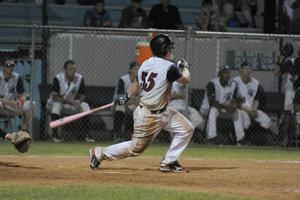 In the biggest game of the summer season, the Victoria Generals sent their ace, Jordan Pacheco, to the mound to face the East Texas Pump Jacks in the opening game of the TCL Championship Series. As he has done time and time again this season, Pacheco stepped up and delivered a great performance, arguably his best of the season, to lead the Generals to a 5-3 win.
Pacheco held the Pump Jacks in check all night long, allowing just a single run in the first inning before settling in and tossing six straight scoreless frames. Pacheco gave up just three hits on the night and had a season-high nine strikeouts.
The Generals got the run back for Pacheco in the bottom of the second inning as Alex Klonowski walked with the bases loaded to score Trent Wagner and make it a 1-1 game.
The score remained tied until the bottom of the sixth inning. Brandon Tierney doubled off the left-centerfield wall, advanced to third on a wild pitch, and came into score on an RBI single by Chad Kruse to give the Generals a 2-1 advantage.
The Generals loaded the bases again in the seventh inning before Tierney was hit by a pitch to score Eric Weiss. Trace Knoblauch then scored on a balk by Pump Jacks pitcher Jeff Stovall. Kruse then delivered another RBI single to score Wagner and make the score 5-1.
Covey Morrow came on in the eighth inning in relief of Pacheco and struggled as he gave up two runs on three hits to cut the lead to 5-3. Tanner Green then relieved Morrow and picked up the final out of the inning on a come-backer that he fielded himself and tossed to first base.
After giving up a lead-off walk in the ninth to allow the tying run to come to the plate, Green retired the next three batters he faced to seal the Generals 5-3 win and pick up the save.
With the win, the Generals take a 1-0 advantage in the best-of-three TCL Championship Series. The series shifts to Kilgore on Tuesday night for game two at Driller Park at 7:05pm. If a third game is necessary, it will be played on Wednesday night in Kilgore.
One more win would secure the Generals second TCL Championship in thier four year history. The Generals last one the TCL title in 2010.

Box Score: http://tcl-generals.bbstats.pointstreak.com/boxscore.html?gameid=109823

Video: http://crossroadstoday.com/Generals-Make-Playoffs/13973735

Video: http://crossroadstoday.com/Generals-on-to-Game-Two/13981400

Video: http://crossroadstoday.com/Generals-Take-Game-One-In-TCL-Finals/13973943

Article: http://www.advosports.com/news/2012/aug/13/wb_generals_baseball_0814_185158/