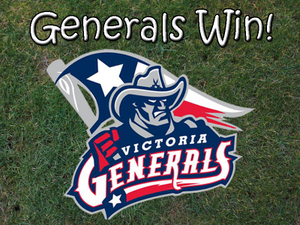 With one out in the bottom of the 11th inning of Sunday night's opening game of the TCL playoffs between the Victoria Generals and Brazos Valley Bombers, Ryan Guedry delivered a single to left-field to score Eric Weiss from second base and give the Generals an 8-7 walk-off win, propelling them into the TCL Championship Series.
The Generals had battled back from a 7-4 deficit, scoring three runs in the bottom of the ninth inning to tie the game at 7-7 and send it into extra innings. With two outs in the ninth, Patrick Duncan hit a double to keep the inning alive. Eric Weiss then blasted a two-run home run to deep left-field to make it a 7-6 ballgame. After a single by Trace Knoblauch, Guedry came through with a double to the right-centerfield gap to allow Knoblauch to score all the way from first.
The Generals entered into the ninth inning with a 4-3 lead, but Generals closer Dallas Ponder surrendered four runs on three hits with three walks to give the Bombers the 7-4 advantage.
The Bombers offense struck first in the game as James Wharton hit a three-run home run to left-field off of Generals starter Dillon Newman in the third inning. It would be the only three runs Newman would allow as he toss five innings on the night with five strikeouts.
The Generals made it a 3-1 game in the bottom of the sixth as Knoblauch stroked a triple to right-field to plate Weiss.
The Generals then loaded the bases in the seventh inning before Chad Kruse was hit by a pitch to score Trent Wagner. Alex Klonowski then shot a single into left-field to tie the game at 3-3. The Generals took the lead later in the inning as Weiss hit a sacrifice fly to right-field to score Carter Mangum.
James Ferguson held the Bombers in check in the sixth and seventh innings, striking out four without allowing a hit.
Tanner Green picked up the win on his birthday, pitching the final 2.1 innings while giving up just one hit with three strikeouts.
With the win, the Generals advance to the TCL Championship Series and will face the East Texas Pump Jacks as they defeated the Alexandria Aces in the other playoff game in the league on Sunday night. The Generals will host game one of the series at Riverside Stadium on Monday night at 7:05pm.
The Generals will travel to Kilgore for game two of the series on Tuesday night. If a third game is needed, it will be played in Kilgore on Wednesday.
It will be the second time in three years that the Generals and Pump Jacks square off in the TCL Championship Series. The Generals captured the TCL title over the Pump Jacks in 2010.
Box Score: http://tcl-generals.bbstats.pointstreak.com/boxscore.html?gameid=109516

Article: http://www.advosports.com/news/2012/aug/13/wb_generals_081312_185059/