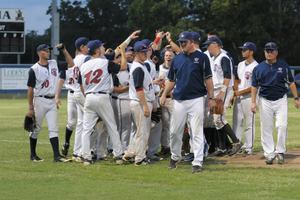 Four pitchers for the Victoria Generals combined to pitch a shutout against the Woodlands Strykers on Saturday night in Victoria. Trae Davis, Kyle Chaskin, Dallas Ponder, and James Ferguson combined to allow just two hits as the Generals won the ballgame 2-0.
The Generals got on the board in the bottom of the third inning as Brandon Tierney scored on a sacrifice fly by Alex Klonowski.
Klonowski would drive in his second run of the game in the bottom of the fifth inning on an RBI double that scored Chad Kruse. Klonowski and Kruse each had two hits in the game.
Davis pitched four innings, allowing just one hit with three walks and three strikeouts.
Chaskin picked up the win, his first of the season, pitching two innings and allowing just one hit with one strikeout.
Ponder struck out all three batters he faced in the seventh inning.
Ferguson earned the save, his second of the year, as he closed the door in the eighth and ninth innings. Ferguson did not allow a hit and struck out two.
With the win, the Generals improve to 34-22 and the Strykers fall to 22-35.
The Generals and Strykers will play the final game of the regular season on Saturday night in Victoria at 7:05pm. The Generals first home playoff game will be on Sunday night at 7:05pm against the Brazos Valley Bombers.
Box Score: http://tcl-generals.bbstats.pointstreak.com/boxscore.html?gameid=91399

Article: http://www.advosports.com/news/2012/aug/10/generals_baseball_0811_184939/