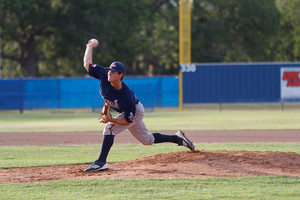 The Victoria Generals completed a two-game sweep of the McKinney Marshals with a 10-2 win at Riverside Stadium on Thursday night. The Generals received a solid outing from starting pitcher Tyler Schnuriger as he picked up his second win of the season. Schnuriger tossed seven innings, allowing just one run on four hits with a season-high eight strikeouts.
The Generals were paced offensively by centerfielder Trent Wagner who went 3-for-4 in the game with a double, a home run, a walk, four RBIs, and three runs scored.
Patrick Duncan also had three hits in the game and Chad Kruse, Alex Klonowski, Eric Weiss, and Kyle Chaskin each had two hits.
With the win, the Generals improve to 33-22 on the season and the Marshals fall to 15-39.
The Generals will take on the Woodlands Strykers on Friday night in the first game of a two-game series at Riverside Stadium at 7:05pm.
Box Score: http://tcl-generals.bbstats.pointstreak.com/boxscore.html?gameid=91395

Article: http://www.advosports.com/news/2012/aug/09/wb_generals_baseball_0810_184815/