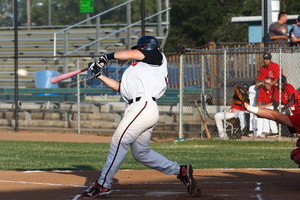 The Victoria Generals tried to make a comeback for the record books on Monday night as they trailed in the game 9-0, but fell just short as they were defeated by the Alexandria Aces 9-7. The Generals had the tying run on second base with two outs in the ninth inning, but a questionable strike three call by the home plate umpire ended the game with Trace Knoblauch standing at the plate.
The Aces scored eight of their nine runs off of Generals starting pitcher Covey Morrow who worked into the fourth inning. The ninth run came off of Jake McMurtry in the fourth.
The Generals then began to fight back, scoring two in the sixth inning on a two-run double by Chad Kruse to make it a 9-2 game.
Patrick Duncan then scored on a ground out by Jude Vidrine in the eighth.
The Generals then made the game interesting in the ninth as Alex Klonowski hit a two-run single before Kruse and Jude Vidrine each added RBI singles to make it a 9-7 game.
Eric Weiss walked to load the bases on a pitch that Aces head coach Freddy Rodriguez did not agree with. Rodriguez came out to argue and was ejected by the home plate umpire.
After a pitching change, Knoblauch stepped to the plate. With a 1-2 count, the home plate umpire punched out Knoblauch on a pitch that looked to be outside to end the game.
Kruse, Klonowski, and Vidrine each had two hits apiece in the ballgame.
With the win, the Aces improve to 22-25 on the season as the Generals fall to 26-21.
The Generals will have an off-day on Tuesday before embarking on a five-game road trip starting with a double header on Wednesday night in Lafayette against the Acadiana Cane Cutters.
The Generals do not play another home game until Wednesday, August 8.
Box Score: http://tcl-generals.bbstats.pointstreak.com/boxscore.html?gameid=91364

Video: http://crossroadstoday.com/Generals-lose-another-at-home-/13853537

Article: http://www.advosports.com/news/2012/jul/31/wb_generals_073112_183880/