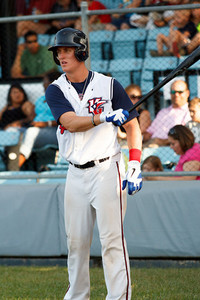 The Victoria Generals second-half struggles continued on Sunday night as they were defeated by the Alexandria Aces at home 10-7.
The Generals have already clinched a spot in the Texas Collegiate League postseason by finishing in second-place in the first-half of the season, but their second-half has left something to be desired thus far as they have now lost 9 of their last 11 games and are currently 7-11 in the second-half TCL standings.
The Generals struggled to come up with clutch base hits again on Sunday night as they stranded 13 runners on base throughout the ballgame.
Jordan Pacheco got the start on the mound for the Generals and got into quick trouble in the top of the first inning as the Aces were able to take a 3-0 lead. The score stayed that way until the fourth inning when the Aces were able to score three more runs, all unearned as they were aided by two Generals errors in the inning, to stretch their lead to 6-0.
The Generals offense finally got on the board in the bottom of the sixth inning when Brandon Tierney walked with the bases loaded to force in Trace Knoblauch. After an Aces pitching change, Trent Wagner walked to score Alex Klonowski, but that would be all of the damage the Generals could do in the innings as they left the bases loaded.
The Aces got one run back in the top of the seventh to make it 7-2. The Generals answered in the bottom half of the inning when Knoblauch scored on a ground out by Klonowski, but once again, the Generals would leave the bases loaded in the inning.
Chad Kruse would come around to score in the bottom of the eighth on a ground out by Jude Vidrine to cut the Aces lead to 7-4.
The Aces then scored three runs in the top of the ninth aided by back-to-back fielding errors on sacrifice bunts by Generals pitcher Kyle Chaskin.
The Generals ninth inning comeback fell just short as they were only able to score three runs in the frame. Eric Weiss doubled to start the inning and came around to score on a throwing error after an infield single by Chaskin. Trent Wagner then launched his fourth home run of the season, a two-run shot off the scoreboard in left-field to make it a 10-7 game. Carter Mangum then grounded out to end the game.
With the loss, the Generals fall to 26-20 on the season and the Aces improve to 21-25.
The two teams will meet again for the rubber match of the three-game series on Monday night at Riverside Stadium at 7:05pm.

Box Score: http://tcl-generals.bbstats.pointstreak.com/boxscore.html?gameid=91361

Article: http://www.advosports.com/news/2012/jul/30/aa_generals_baseball_0730_183759/