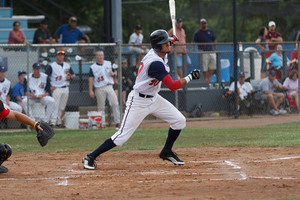 The Victoria Generals broke their four-game losing streak on Saturday night with an 8-3 win over the Alexandria Aces at Riverside Stadium. The Generals received a solid outing from pitcher Trae Davis who picked up his second win of the season.
Davis went seven innings, allowing just one run on four his with six strikeouts.
Tanner Green pitched the final two innings, allowing two runs on three hits with one strikeout.
The Generals got on the board in the third inning as Trent Wagner doubled home Alex Klonowski who had led off the inning with a double.
The Generals then broke the game open with a four-run fourth inning powered by a two-run double by Eric Weiss and two-run double by Brandon Tierney.
The Aces cut the Generals lead to 5-1 with a single run in the sixth inning.
The Generals added three insurance runs in the bottom of the eighth as Wagner drove in Klonowski on an RBI single. Cater Mangum would later single in Tierney before Wagner scored on an RBI single by Chad Kruse to make the score 8-1.
The Aces scratched out two more runs in the ninth before Green shut the door on the ballgame.
Wagner and Klonowski led the Generals at the plate with three hits apiece.
With the win the Generals improve to 26-19 and the Aces fall to 20-25.
The Generals and Aces will meet again on Sunday night in Victoria at 7:05pm at Riverside Stadium for game two of the three-game series.
Box Score: http://tcl-generals.bbstats.pointstreak.com/boxscore.html?gameid=91358

Video: http://crossroadstoday.com/Generals-break-their-losing-streak/13840108

Article: http://www.advosports.com/news/2012/jul/28/generals_baseball_0729_183715/

Article & Video on the Beer Batter: http://www.advosports.com/news/2012/jul/28/aa_beerbatter_072912_183123/