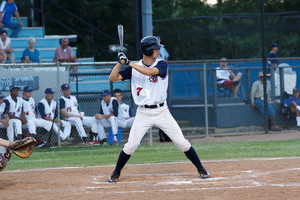 The Victoria Generals lost their fourth straight game on Friday night as they fell to the McKinney Marshals 9-7.
All seven of the Generals runs came in the first three innings of the ballgame. But after that, Marshals relief pitcher Mitchell Bro shut down the Generals to pick up the win. Bro pitched five innings and allowed just three hits while striking out six.
The Marshals jumped out to a quick 2-0 lead in the top of the first, but the Generals responded with four runs of their own in the bottom half of the inning. Chad Kruse doubled home Trent Wagner for the first run. Kruse would eventually come around to score on an RBI single by Trace Knoblauch. Knoblauch then scored when the Marshals left-fielder, Hayden Simerly, misplayed a ball that was hit right at him. Alex Klonowski then singled home Eric Weiss.
Brandon Tierney scored in the second inning on an error to make the score 5-3 in favor of the Generals.
But in the top of the third inning, the Marshals scored five runs highlighted by a grand slam by Chabriel Pizarro to make the score 5-7.
The Generals came right back and tied the ballgame in the bottom of the third as Wagner singled in Eric Weiss and Klonowski.
The Marshals took the lead back in the top of the fourth on a two-run home run by Brandon Dixon off of James Ferguson make the score 9-7.
The score would stay that way the rest of the ballgame as neither team was able to score the rest of the way.
The Generals fall to 25-19 on the season as the Marshals improve to 15-28.
The Generals will begin a three-game series with the Alexandria Aces on Saturday night at Riverside Stadium at 7:05pm.
Box Score: http://tcl-generals.bbstats.pointstreak.com/boxscore.html?gameid=91357

Video: http://crossroadstoday.com/Generals-lose-another-at-home-/13836804

Article: http://www.advosports.com/news/2012/jul/28/generals_marshals_0728_183658/