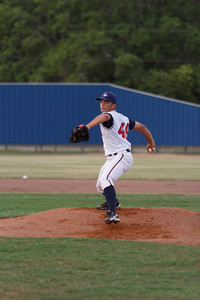 The Victoria Generals and Woodlands Strykers split a double header at Riverside Stadium on Sunday night. The Generals won game one 2-0 behind a complete game shutout by Jordan Pacheco. The Strykers won the night cap 2-1.
In game one, Pacheco was the star of the game has he allowed just four hits and struck out eight batters on his way to the complete game victory, the Generals first of the season. The win improved Pacheco's record to 5-1. His five wins and 42 strikeouts on the season are both tied for the league lead.
The Generals scored a run in the second inning on Carter Mangum's double to right field to score Trace Knoblauch.
The Generals second run of the game came in the third inning on a RBI single by Andrew Stumph who drove in Chad Kruse. Kruse had tripled to start off the inning.
Stumph went 3-for-3 in the ballgame and Mangum went 2-for-2.
In game two, all of the runs in the game came in the first inning via the long ball. The Strykers got a two-run home run from Carter Burgess in the top of the frame. The Generals made it 2-1 on a solo blast by Billy Richard, his fourth of the season.
It was all zeros in the runs column the rest of the game as Cameron Walker of the Strykrs and Covey Morrow of the Generals settled in on the mound.
The Generals tried to make a comeback in the bottom of the seventh, but fell just short. With the tying run on third and the winning run on first with only one out, the Strykers brought on Richard Bautista to pitch. Bautista got Eric Weiss to strikeout before Chad Kruse hit a line drive that Stryker's centerfielder Ricardo Sanchez made a beautiful diving catch on to close out the game.
With the split, the Generals record goes to 25-16 and the Strykers move to 12-27.
The two teams will meet for game three of the series at 7:05pm on Monday night at Riverside Stadium in Victoria.
Game 1 Box Score: http://tcl-generals.bbstats.pointstreak.com/boxscore.html?gameid=91309
Game 2 Box Score: http://tcl-generals.bbstats.pointstreak.com/boxscore.html?gameid=91342

Article: http://www.advosports.com/news/2012/jul/22/aa_generals_baseball_0723_183104/