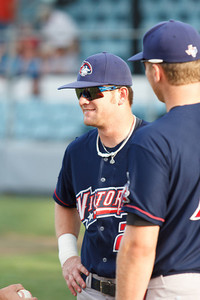 The Victoria Generals lost a 1-0 game on Saturday night in Kilgore against the East Texas Pump Jacks that was called after six innings due to weather. The two teams took the field to start the top of the 7th inning before the umpiring crew decided to pull the teams off of the field due to lightening in the area.
After a short delay, the two teams decided to call off the rest of the game for precautionary measures.
The Generals outhit the Pump Jacks 5-2 in the contest, but it was the Pump Jacks who were able to push across the only run of the game. After allowing a lead off walk in the bottom of the first inning, Generals starting pitcher Trae Davis eventually allowed the run to score on a wild pitch. With the loss, Davis fell to 1-2 on the season.
The Generals best scoring opportunity came in the top of the sixth inning when Billy Richard tried to score from second base on a single by Andrew Stumph, but Richard was gunned down at the plate to end the inning. Richard led the Generals with two hits in the ballgame.
With the loss, the Generals complete a win-less four-game road trip and fall to 24-15 on the season. The Pump Jacks improved to 30-11.
The Generals will return home for a double header against the Woodlands Strykers on Sunday night starting at 5:00pm at Riverside Stadium. It will be the Generals fourth annual Diamonds on the Diamond event presented by Torin Bales Fine Jewelry. The first 100 women ages 18 and older to enter the park on Sunday will be registered for the chance to win lots of great prizes throughout the night, including the grand prize: diamond earrings from Torin Bales Fine Jewelry.
Box Score: http://tcl-generals.bbstats.pointstreak.com/boxscore.html?gameid=91339