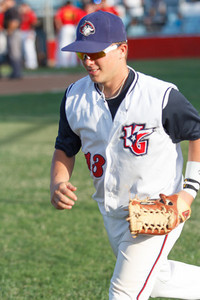 The Victoria Generals lost their third third straight game on the road Friday night as they fell to the East Texas Pump Jacks in Kilgore by a final score of 6-3. In a match-up of the top two teams in the TCL, it was the Pump Jacks who were able to come up with clutch base hits when they needed them most as the Generals offensive woes continued with runners in scoring position.
The Generals jumped out to a 2-0 lead in the third inning as Carter Mangum delivered a two-run double to score Trent Wagner and Blue Hybner.
Generals starting pitcher Dillon Newman, the reigning TCL Pitcher of the Week, cruised through the first three innings of the game to run his scoreless innings streak to 22 on the season. But in the fourth, Newman ran into trouble and was chased from the game after allowing four runs in the frame as the Pump Jacks took a 4-2 lead. Newman would end up taking the loss in the game, his first of the season.
The Generals cut the lead to 4-3 in the sixth when Mangum, who led off the inning with his second double of the game, came around to score on a groundout by Chad Kruse.
However, the Pump Jacks responded with two runs in the bottom of the sixth off of Jeremy Flores to make the score 6-3.
The Generals were unable to mount a comeback as TCL saves leader Jason Jester picked up his 17th save of the season.
The Pump Jacks improved to 29-11 on the season as the Generals fell to 24-14. The two teams will meet again on Saturday night for the second game of the two-game series at 7:05pm in Kilgore.
Box Score: http://tcl-generals.bbstats.pointstreak.com/boxscore.html?gameid=91335