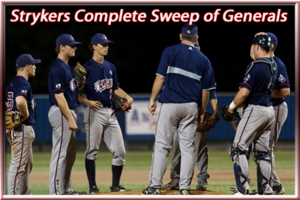 The Woodlands Strykers completed a two-game series sweep of the Victoria Generals on Thursday night with a 3-1 victory. Michael Aquino provided all of the offense the Strykers would need as he blasted a three-run home run in the sixth inning off of Generals starting pitcher Bryce Zak. It was Aquino's fourth home run in the past three games as he now leads the Texas Collegiate League with six on the season.
Aquino's home run was the only blemish on a solid outing by Zak. He allowed just six hits and walked one batter while striking out seven.
The Generals offensive woes continued as they were only able to push across one run on the night on a wild pitch in the second inning which allowed Eric Weiss to score from third base.
The Generals loaded the bases with one out in the third, but were unable to score. After Trent Wagner doubled for the Generals with one out in the fourth inning, the Strykers pitching staff did now allow a hit through the final 5.2 innings of the game.
With the loss the Generals fell to 24-13 on the season. The Strykers improved to 11-25.
The Generals are still in second place in the overall TCL standings and travel to Kilgore on Friday night for the first game of a two-game road series against the first-place East Texas Pump Jacks. Game time is 7:05pm at Driller Park.
Box Score: http://tcl-generals.bbstats.pointstreak.com/boxscore.html?gameid=91332