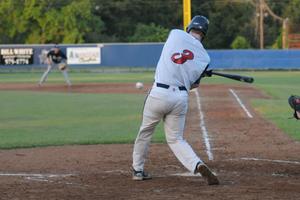 The top two teams in the Texas Collegiate League squared off on Saturday night in Victoria as the East Texas Pump Jacks came to town to take on the Victoria Generals at Riverside Stadium. It came as no surprise that it was another tight battle between the two teams just like we've seen numerous times over the past four years.
On Saturday night, it was the Generals who were able to squeak out a win by a final score of 3-2.
Leading 2-1 heading into the top of the eighth inning, the Generals sent Tanner Green to the mound in relief of Jordan Pacheco who had another great outing. Pacheco tossed seven innings, allowing just one run on four hits with six strikeouts. Pacheco was in line for the win, but unfortunately the Pump Jacks were able tie the ballgame on an RBI double by Kash Kalkowski off of Green in the eighth.
The Generals answered right back in the bottom half of the frame on an RBI groundout by Billy Richard to make it 3-2 and retake the lead.
Dallas Ponder came on in the top of the ninth and struck out the first two batters he faced. After allowing back-to-back singles, he got Kevin O'Leary to hit a soft liner to Patrick Duncan at first base for the final out. It was Ponder's second save of the season as Green was credited with the win.
The Generals got on the board first in the game as Richard walked with the bases loaded to score Duncan in the second inning.
After the Pump Jacks tied the game on a solo home run by Charlie Wagner in the third, the Generals took a 2-1 lead in the fifth on an RBI single by Duncan to score Brandon Tierney.
Duncan was the Generals leading hitter on the night, going 4-for-4 with a double, two runs scored, and an RBI.
With the win, the Generals improved to 23-11 overall on the season and 4-2 in the second-half. The Pump Jacks fell to 25-9 overall.
The Generals head to Lafayette, Louisiana on Sunday to take on the Acadiana Cane Cutters in a two-game series on Sunday and Monday nights.
Box Score: http://tcl-generals.bbstats.pointstreak.com/boxscore.html?gameid=91318

Article: http://www.advosports.com/news/2012/jul/14/wb_generals_071512_182406/