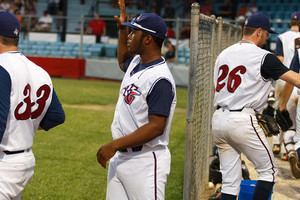 The Brazos Valley Bombers pulled away late on Friday night to defeat the Victoria Generals 8-3 and split the two-game series in Victoria. The game was close early on, but the Bombers scored two in the eighth and two in the ninth to pad their late lead and win the game.
Trae Davis took the loss for the Generals, his first of the season, despite turning in a quality start. Davis went six innings allowing just three runs (two earned) on three hits with five strikeouts.
The Bombers got on the board early in the top of the first, scoring twice. The Generals cut the lead in half with a single run in the bottom of the frame as Billy Richard scored on a sacrifice fly by Brandon Tierney.
The Generals eventually tied the game at 2-2 in the bottom of the fifth on an RBI single by Jude Vidrine to plate Chad Kruse who had doubled earlier in the inning.
The Bombers answered in the top of the sixth with an unearned run on an RBI groundout by James Wharton after an errant pickoff attempt allowed Brandon Wood, who had walked to lead off the inning, to move to third base.
After the Bombers made the score 8-2 scoring two runs in the eighth off of Jake McMurtry and three runs in the ninth off of Corey Holmes, the Generals tried to mount a ninth inning rally. Carter Mangum scored on an RBI single by Alex Klonowski, but with runners on first and third and two outs, Kruse struck out swinging to end the game.
The Generals fell to 22-11 overall and 3-2 in the second-half. The Bombers improved to 20-15 overall and 3-2 in the second-half.
The Generals will complete their five-game homestand on Saturday night as the East Texas Pump Jacks travel to Victoria for a 7:05 game at Riverside Stadium. It will be Little League Night at the ballpark as all kids in uniform will get into the game for free.
Box Score: http://tcl-generals.bbstats.pointstreak.com/boxscore.html?gameid=91314

Video: http://crossroadstoday.com/pages/13718067.php?

Article: http://www.advosports.com/news/2012/jul/13/wb_generals_071412_182341/