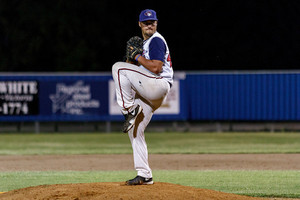 Dillon Newman and Dallas Ponder continued their dominance of the Texas Collegiate League on Thursday night as they combined to pitch the Generals to a 4-0 shutout of the Brazos Valley Bombers at Riverside Stadium in Victoria.
Newman tossed seven innings, striking out seven batters and allowing just four hits on the night. He was economical on the night, throwing just 71 pitches, 58 of which were for strikes.
Dallas Ponder came on in the eighth and finished out the game, throwing two hitless innings with two strikeouts.
Both Newman and Ponder have still not given up a run all season.
The Generals scored all four of their runs in the bottom of the seventh inning. Trace Knoblauch walked, moved to second on a single by Brandon Tierney, and was driven home by Trent Wagner on an RBI single to right-centerfield. After a groundout to advance Wagner to second, Tierney and Wagner scored on a single back up the middle by Carter Mangum. Chad Kruse hit a sacrifice fly later in the inning to score Mangum and make it a 4-0 ballgame.
With the win, the Generals improved to 22-10 on the season and 3-1 in the second-half. The Bombers fell to 19-15 overall and 2-2 in the second-half.
The two teams will meet again on Friday night for game two of the two-game series at 7:05pm at Riverside Stadium. Friday night is the Generals annual Health & Fitness Fair presented by DeTar Healthcare System. Professionals from the healthcare industry will be on hand to give away promotional items and interact with fans around the concourse of the stadium.
Box Score: http://tcl-generals.bbstats.pointstreak.com/boxscore.html?gameid=91311

Video: http://crossroadstoday.com/Generals-Shutout-Bombers/13707193

Article: http://www.advosports.com/news/2012/jul/12/wb_generals_071312_182232/