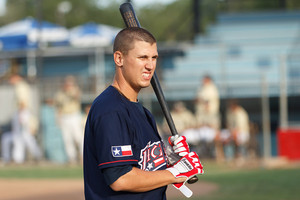 On a night when the best players from the Texas Collegiate League traveled to Victoria to showcase their skills in the 2012 TCL All-Star Game presented by the University of Houston-Victoria, no star shinned brighter than Victoria Generals outfielder Jude Vidrine who was named the game's MVP as he led the South to a 10-2 victory over the North.
Vidrine blasted two home runs in the game, a three-run shot in the second inning and a solo bomb in the ninth. On the night, Vidrine went 3-for-4 with the two home runs, five RBIs, and three runs scored and was also hit by a pitch.
Generals pitcher Covey Morrow was credited with the win, recording three quick outs in the second inning.
After the South jumped out to a 3-0 lead on Vidrine's first home run, they scored again in the bottom half of the fourth as Gabe Woods of the Acadiana Cane Cutters drove home Vidrine on an RBI double to make it 4-0.
The North got on the board in the top of the fifth as Jami Rachel of the Alexandria Aces singled home Brazos Valley Bombers outfielder Myles Parma. Hayden Simerly of the McKinney Marshals walked with the bases loaded to score Nathan Hale of the Aces to make it 4-2.
The South answered back in the bottom half of the fifth as Cane Cutters shortstop Isaac Rodriguez hit a solo home run down the left-field line. Vidrine was then hit by a pitch with the bases loaded to plate Mitchel Nau of the Cane Cutters before Adam Seal of the Cane Cutters scored on a sacrifice fly by Generals outfielder Billy Richard to make it 7-2 in favor of the South.
Generals pitcher Jordan Pacheco pitched a perfect sixth inning, striking out the first two batters he faced and then getting a flyout to the shortstop for out number three.
The South made it 8-2 in the bottom of the sixth as Generals catcher Eric Weiss got in on the action and hit a sacrifice fly to drive home Braxton Lee of the Cane Cutters.
Trae Davis and Dillon Newman of the Generals each pitched a scoreless inning in the eighth and ninth, respectively. Newman struck out all three batters he faced.
Generals first baseman Trace Knoblauch hit a triple to deep centerfield in the bottom of the ninth inning and came around to score on a groundout by Ricardo Sanchez of the Woodlands Strykers. Vidrine the made the final sore 10-2 on his solo home run in the ninth.
With the win, the South squad has now won the last two TCL All-Star Games.
Prior to the game, Brazos Valley Bombers outfielder Brandon Wood won the TCL Home Run Derby presented by Victoria Nissan.
Box Score: http://tcl-generals.bbstats.pointstreak.com/boxscore.html?gameid=103519

Video: http://crossroadstoday.com/Live-Report-from-TCL-All-Star-Game/13672758

Video: http://crossroadstoday.com/South-Wins-TCL-All-Star-Game/13672980

Article: http://www.advosports.com/news/2012/jul/09/mf_allstar_071012_181890/

Article: http://www.advosports.com/news/2012/jul/08/aa_pacheco_070912_181137/