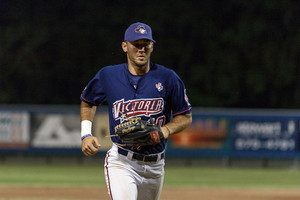 The Victoria Generals defeated the Alexandria Aces 11-4 on Wednesday night in Victoria to secure a second-place finish in the first-half Texas Collegiate League standings, and with that, the #2 overall seed in the TCL playoffs. The Generals now know that they will host the #3 seed in a one-game, winner-take-all match-up, on Sunday, August 12. The winner of the game will move on to the TCL Championship Series.
The Generals got the bats going early in the game, scoring six runs in the first inning. With one out, Eric Weiss hit a ground ball to the Aces shortstop who threw to second base to try to start a double play, but the ball was mishandled by the second baseman allowing Chad Kruse to score. That opened the flood gates in the inning. Andrew Stumph then delivered an RBI single to right-field to drive home Jude Vidrine who had walked earlier in the inning. Weiss would then score on a sacrifice fly by Trace Knoblauch. After a single by Brandon Tierney, Trent Wagner launched his first home run of the season, a three-run blast to left-centerfield.
The Generals made it 7-0 in the second inning on another RBI single by Stumph to score Kruse who had reached base on a double.
To lead off the third inning, Wagner hit his second home run of the game to straight away left-field. After back-to-back singles by Alex Klonowski and Billy Richard, Kruse blasted a three-run home run to make the game 11-0. It was Kruse's first of the season.
That closed the books on Aces starting pitcher Joey Kaufman's night as he gave up all 11 runs on 11 hits with two walks.
Trae Davis went four scoreless innings for the Generals, allowing just three hits with two strikeouts.
Jeremy Flores picked up the win in relief, throwing two innings and allowing one run on a solo home run by Caleb Adams in the sixth. Flores had two strikeouts.
Jake McMurtry allowed three runs in the eighth inning on a bases loaded double by Rene Moreda.
Tanner Green closed out the game, pitching a scoreless ninth inning, allowing just one hit and striking out one.
With the win, the Generals closed out the first-half with a 19-9 record. The Aces fell to 12-18.
The Generals will have an off-day on Thursday before traveling to Alexandria to take on the Aces in a two-game series on Friday and Saturday to start the second-half of the season.
The Generals will host the 2012 TCL All-Star Game presented by the University of Houston-Victoria on Monday, July 9 at 7:05pm. The TCL Home Run Derby presented by Victoria Nissan will proceed the All-Star Game at 6:00. The TCL will announce All-Star rosters on Thursday morning.
Box Score: http://tcl-generals.bbstats.pointstreak.com/boxscore.html?gameid=91292

Article: http://www.advosports.com/news/2012/jul/04/wb_generals_070512_181464/

Video: http://crossroadstoday.com/Generals-Clinch-Playoff-Spot/13633343