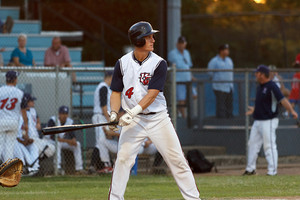 The Victoria Generals moved one step closer to securing a second-place finish in the Texas Collegiate League first-half standings on Tuesday night as they defeated the Alexandria Aces 5-3 at Riverside Stadium in Victoria. The Generals magic number is now down to one with one game remaining on the first-half calendar.
If the Generals win their final game of the first-half on Wednesday night against the Aces, they will secure a second-place finish and grab the #2 seed in the TCL postseason. If the Generals lose on Wednesday night, it opes the door for the Brazos Valley Bombers who would need to win their final three games of the first-half to pass the Generals. The Bombers play in McKinney against the Marshals on Wednesday night and then close out their first-half schedule with a double header against the Marshals on Thursday night.
The Generals jumped out to an early 4-0 lead in the game on Tuesday night, scoring two runs in the first inning and two runs in the second.
In the first, Brandon Tierney drilled a two-out, two-run double into the left-centerfield gap to drive home Chad Kruse and Eric Weiss.
With two outs in the second inning, Jude Vidrine singled to right-field to drive home Trent Wagner before Eric Weiss was hit by a pitch with the bases loaded to score Carter Mangum.
The Aces loaded the bases in the top of the third inning and scored twice on back-to-back wild pitches to cut the Generals lead to 4-2.
The Generals got a run back in the bottom of the fourth on an infield single by Weiss to score Mangum.
In the top of the sixth, the Aces scored one more run on an RBI single by Votolato to make it 5-3.
Bryce Zak picked up his second win of the season as he allowed just two runs on three hits while striking out two over five innings.
Alex KIonowski pitched the sixth and seventh innings, allowing just one run on four hits with two strikeouts.
Dallas Ponder earned his second save of the season, pitching two scoreless innings while allowing just one hit and striking out three.
The Generals improved to 18-9 on the season as the Aces fell to 12-17.
The two teams will meet again on Wednesday night. Game time has been moved up to 6:00pm to allow fans to get to the city fireworks show at the Victoria Mall after the game. It will be a Dollar Beer Night with $1 draft beer on the party deck all game long.
Box Score: http://tcl-generals.bbstats.pointstreak.com/boxscore.html?gameid=91290

Video: http://crossroadstoday.com/Generals-Take-the-Heat/13626816

Video: http://crossroadstoday.com/pages/13627512.php?

Article: http://www.advosports.com/news/2012/jul/03/mf_generals_recap_070412_181389/