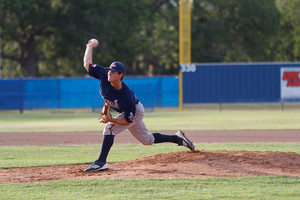 The Victoria Generals pitching staff shutout the Acadiana Cane Cutters offense for the second straight night on Sunday. The Generals earned a 3-0 victory behind stellar outings from Tyler Schnuriger and Trae Davis a day after shutting out the Cane Cutters 4-0 behind strong performances by Covey Morrow and Tanner Green.
Schnuriger went seven innings, allowing just four hits while striking out seven to earn his first win of the season. Davis pitched a perfect final two innings to close the door.
The Generals once again did all of their scoring early in the game, posting two runs in the third and one in the fourth.
Chad Kruse doubled to lead off the third inning before Brandon Tierney stepped in and delivered his first home run of the season to give the Generals a 2-0 lead.
Alex Klonowski then blasted his first home run of the season, a solo shot to lead off the fourth inning.
That would be plenty of run support for Schnuriger and Davis on the night.
The Generals improved to 12-7 on the season as the Cane Cutters fell to 10-9.
The Generals return home on Monday to host the Brazos Valley Bombers at 7:05pm at Riverside Stadium in Victoria.
Box Score: http://tcl-generals.bbstats.pointstreak.com/boxscore.html?gameid=91262