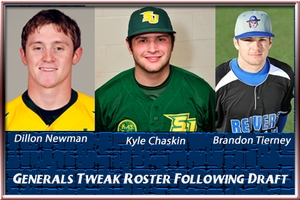 During every summer, the first week of June is an exciting time for the Victoria Generals. From the beginning of a new, Texas Collegiate League summer season to the Major League Baseball draft, there is always some positive news surrounding the team, and 2012 is no different.
The Generals saw five of their current and former players selected in the 2012 MLB draft. Of those five players, three were on the active Generals roster at the time of their selection. Two have already decided to sign professional contracts and the other is still weighing his options.
Left-handed pitcher Jordan Harrison and catcher M.P. Cokinos have decided to forgo their senior years in college and turn pro. Third baseman Rudy Flores is still currently with the team, but has yet to make a final decision on whether or not to sign professionally. The losses of Harrison and Cokinos have left the Generals with some holes to fill on their roster.
"Our organization is really excited for Jordan and M.P.," stated Victoria's general manager Blake Koch. "We wish them both the best of luck with their professional careers and look forward to keeping in touch with them."
The Generals have also dealt with multiple injuries to start the year as well. Opening day starting pitcher Austin Pfeiffer left the first game of the season due to a shoulder injury which will most likely keep him from playing for the team the rest of the summer. Pitchers Justin Cromartie and Ross Goebel both suffered setbacks to end their college seasons and may not be able to pitch for the Generals at all this summer.
Generals infielders Hayden Vesely and Blake Marchal are both currently injured and being held out of action as well.
"Injuries happen," Koch claimed. "It's something that we have to deal with every summer."
To plug the holes created by the draft and injuries, the Generals have added three new players to their roster to help fill their needs. Right-handed pitchers Dillon Newman and Kyle Chaskin will join the team later this week along with infielder Brandon Tierney. The Generals will also receive help from spring signee Trae Davis, a right-handed pitcher, who is set to arrive this week now that Baylor University has been eliminated from postseason play.
Dillon Newman, a sophomore at Baylor, helped lead the Bears to a 49-17 record this season. The Bears were defeated by Arkansas in the Waco Super Regional which just ended last night. On the year, Newman posted a 4-4 record in 21 appearances and one start. Newman had an ERA of 2.40 to go along with 44 strikeouts in 45 innings.
Newman, a native of Belton, Texas, was a 49th round draft pick of the New York Mets out of high school.
"Picking up Dillon is a big addition for us," stated Koch. "We're in need of a shutdown guy to close out games and Dillon has the ability to be that guy.
Kyle Chaskin, a sophomore from San Jacinto College, will be another arm that can step in out of the bullpen for the Generals. Chaskin, a native of Houston, helped lead San Jacinto to the championship game of the Junior College World Series this year. On the year, Chaskin was 4-1 with three saves and a 1.35 ERA. He recorded 20 strikeouts in 20 innings.
"Kyle has pitched in big games before and won't be intimidated by the spotlight," stated Koch. "He'll be another guy we can rely on out of the bullpen and might be able to start some if needed."
The final new addition for the Generals is infielder Brandon Tierney, a sophomore from Iowa Western Community College. Tierney was the starting shortstop at Iowa Western this year and helped lead the team to the Junior College World Series Championship over San Jacinto in the championship game.
Tierney, a native of Arlington, Texas, transferred to Iowa Western after spending his freshman year on the football team at the University of Arkansas. Tierney hit .402 on the season with 11 doubles, two triples, two home runs, 57 RBIs, and 33 runs scored.
Tierney plans to transfer to Texas A&M University – Corpus Christi in the fall.
"Brandon is a really talented athlete and can slide all over the diamond to fill multiple positions," said Koch. "He's a proven leader and winner."
The Generals are currently 5-3 on the season heading into tonight's road game in Kilgore against the East Texas Pump Jacks. The Generals return home on Wednesday night to take on the Pump Jacks at 7:05pm at Riverside Stadium in Victoria.
On Wednesday night, the Generals will have a $1 draft beer night to make up for the lost Thirsty Thursday from last week due to a rainout. It will also be a Margarita Wednesday as margaritas will be $3 all game long.
The Generals then have an off-day on Thursday before a stretch of five-straight home games from Friday to Tuesday. The Generals have lots of action packed events planned over the weekend and into next week. Visit www.victoriagenerals.com to view the promotional calendar and to purchase tickets online.