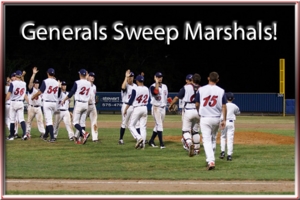 The Victoria Generals completed a two-game sweep of the McKinney Marshals on the road on Monday night with a 7-1 victory at Allen High School.
Covey Morrow picked up the win for the Generals, allowing just one run in six innings. Corey Holmes earned the save as he did not allow a run through the final three innings of the game.
Eric Weiss hit a solo home run, the first for the Generals offense this season.
Carter Mangum was the leading hitter for the Generals going 3-for-4 at the plate with a double, two RBIs, and a run scored.
The Generals improved to 5-3 on the season as the Marshals fell to 1-6.
The Generals head to Kilgore on Tuesday night to take on the East Texas Pump Jacks at 7:05pm at Driller Park. The team then returns home for a game at Riverside Stadium at 7:05pm on Wednesday night against the Pump Jacks.
Wednesday night is the first Margarita Wednesday of the season with $3 margaritas all game long! It will also be a $1 draft beer night to make up for the lost Thirsty Thursday last week due to a rainout. Gates open at 6:00pm.
We'll have more on tonight's game in the morning after an accurate box score is submitted.