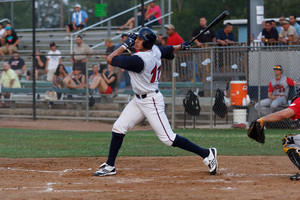 The Victoria Generals traveled to Brazos Valley on Saturday night to take on the Bombers in the first game of a four-game roadtrip. The Bombers jumped out to an early 3-0 lead after one inning of play. Generals starting pitcher Bryce Zak struggled with his command in the first inning, walking three batters in the frame.
The Generals tied the ballgame at 3-3 in the top of the third inning. With two outs, Billy Richard walked, Jude Vidrine singled, and Chad Kruse walked to load the bases. Rudy Flores then drove an bases-clearing double into the gap to tie the game.
The Generals took a 4-3 lead in the top of the fifth inning on an RBI groundout by Vidrine to score Carter Mangum.
The Bombers then answered with two runs in the bottom of the fifth to take a 5-4 lead and chase Zak from the game.
Alex Klonowski came on in relief and pitched well, holding the Bombers scoreless through 2.2 innings while allowing just one hit.
In the top of the sixth, the Generals tied it back up on an RBI single by Trace Knoblauch to score Flores.
The score stayed tied at 5-5 until the top of the ninth when Vidrine drove home Eric Weiss on an RBI single to left field.
Generals reliever Tyler Schnuriger allowed a single and a walk in the ninth, and then, with one out, Brennyn Smith drove a double down the left-field line to score two runs to give the Bombers a walk-off 7-6 win.
The Bombers improved to 7-1 on the season as the Generals fell to 3-3. The Bombers have currently won seven straight games. Saturday night's game was the third straight the Generals have lost to the Bombers despite holding leads in the last three innings of each game.
Flores and Vidrine led the Generals at the plate with a 3-hit performances.
The Generals will travel to McKinney on Sunday for the first game of a two-game series against the Marshals at 2:00pm at Jesuit High School.
Box Score: http://tcl-generals.bbstats.pointstreak.com/boxscore.html?gameid=91218