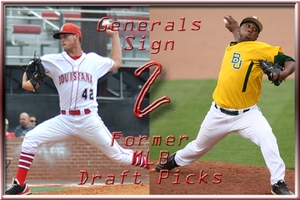 The Victoria Generals of the Texas Collegiate League have signed two pitchers who were formerly selected in the Major League Baseball draft. Jordan Harrison and Trae Davis will join the Generals pitching staff for the upcoming 2012 summer season.
"Jordan and Trae are both very talented pitchers that are already on the radar of MLB scouts," commented Blake Koch, Victoria's general manager. "Both guys have been drafted before and have a great shot at signing a professional contract one day."
Jordan Harrison was selected in the 30th round of the 2009 MLB draft by the New York Mets following his senior year at New Caney High School.
Harrison is currently attending the University of Louisiana – Lafayette where he is 3-3 on the season with a 3.80 ERA. Harrison was recently named the Sun Belt Conference Pitcher of the Week after throwing a complete-game one-hitter against Western Kentucky. Harrison has 43 strikeouts in 45 innings of work this season.
Harrison was a mid-season pickup for the Generals during the 2011 season. He appeared in 13 games and struck out 17 batters in 19 innings while posting a 1.42 ERA.
The 6'1",180-pound lefty, played two seasons at North Central Texas College where he was named to the Texas/New Mexico JUCO All-Star Team.
"Jordan was a great mid-season pickup for us last year," Koch stated. "He came in and really stabilized our bullpen. We're looking forward to getting a full summer out of him this season."
Trae Davis, a sophomore right-handed pitcher from Baylor University was selected in the 29th round of the 2010 MLB draft by the Texas Rangers following his senior year at Mexia High School.
As a freshman, Davis pitched in 17 games for the Bears posting a 3-1 record with a 6.75 ERA and 18 strikeouts over 21.1 innings of work.
Davis has made seven appearances for Baylor this spring. He currently has a 4.35 ERA with four strikeouts in 10.1 innings.
Davis spent the 2011 summer in the Cape Cod Baseball League with the Chatham Anglers.
"Trae is a very talented and athletic pitcher," stated Koch. "He'll benefit a great deal from getting to work with Coach Clemons all summer."
The Generals home opener is on Sunday, June 3 at 7:05pm at Riverside Stadium against the Acadiana Cane Cutters. Season tickets for all 30 of the Generals home games this season are on sale now. Fans can buy season tickets and team merchandise at the Generals team store located at 3708 North Navarro, Suite A in the Landmark Shopping Center, online at www.VictoriaGenerals.com, or by calling 361-485-9522.