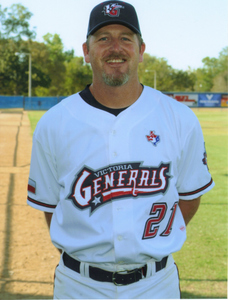 After taking a one-year hiatus, the two-time Texas Collegiate League Coach of the Year, Chris Clemons, will return as the head coach for the Victoria Generals this season. Clemons was last seen in a Generals uniform at the end of the 2010 season with the TCL Championship trophy in his hands.
"We're thrilled to have Chris back with us in Victoria this summer to lead our team as we set out to try to win another TCL championship," stated Blake Koch, the Generals GM. "Chris obviously has a great history here with us and we're looking forward to getting another season started under his direction."
Clemons led the Generals to the TCL championship in 2010 with a final record of 34-17 and a #14 national ranking.
Clemons took the reigns as the first head coach in franchise history when the Generals embarked on their inaugural season in 2009. He led the team to a regular-season championship with a final record of 32-16-2, but the Generals fell to the Coppell Copperheads in the TCL Championship Series. The Generals finished the 2009 season ranked #22 in the country.
For his efforts, Clemons was named the TCL Coach of the Year in both 2009 and 2010.
Clemons is currently in his sixth season as the assistant coach at McLennan Community College in Waco, Texas. He also spent two seasons as a volunteer assistant coach at Baylor University from 2006-2008.
Clemons, a native of McGregor, Texas, attended Texas A&M University from 1992-1994 and earned All-Southwest Conference and All-American honors as a pitcher. He was a first-round draft pick by the Chicago White Sox following his junior year.
Clemons reached the major leagues in 1997, appearing in five games with two starts for the White Sox. The next year, the Arizona Diamondbacks selected Clemons in the expansion draft. His major league career was cut short following reconstructive shoulder surgery in 1998. He spent the next three years in the Arizona, Cleveland, and Minnesota minor league systems before retiring in 2001.
The Generals 2012 home opener is on Sunday, June 3 at 7:05pm at Riverside Stadium against the Acadiana Cane Cutters. Season tickets for all 30 of the Generals home games this season are on sale now. Fans can buy season tickets and team merchandise at the Generals team store located at 3708 North Navarro, Suite A in the Landmark Shopping Center, online at www.VictoriaGenerals.com, or by calling 361-485-9522.