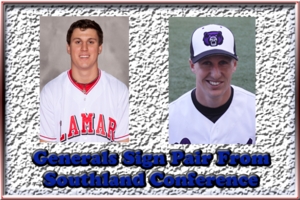 The Victoria Generals have announced the addition of two new players with ties to the Southland Conference. Jude Vidrine, a redshirt sophomore from Lamar University, and Blake Marchal, a junior from the University of Central Arkansas, will play for the Generals in the summer of 2012.
"The Texas Collegiate League always has a large number of players from the Southland Conference," stated Blake Koch, GM of the Generals. "We feel that these two young men will come in and have a positive impact on our team this summer."
Jude Vidrine, a Nederland, Texas native, appeared in 45 games last season at Lamar as a redshirt freshman, making 36 starts. Vidrine hit .222 while collecting six doubles, two home runs, and 19 RBIs. The left-handed hitting outfielder redshirted at Lamar as a freshman in 2009.
Vidrine spent the 2011 summer with the Amsterdam Mohawks of the Perfect Game Collegiate Baseball League where he hit .348 with seven doubles, three triples, eight home runs, 29 RBIs, and 34 runs scored. For his efforts, Vidrine was named to the PGCBL All-League Team and was also named the 8th best prospect in the PGCBL by Baseball America.
"Jude is a solid outfielder that can really swing the bat," commented Koch. "He is the type of guy that can hit anywhere in the lineup and be productive."
Blake Marchal, a native of LaPorte, Texas, transferred to UCA after two standout season at Alvin Community College. As asophomore, Marchal hit .418 with seven doubles, four triples, one home run, 26 RBIs, and 39 runs scored. As a freshman at Alvin, Marchal batted .366 with nine doubles, four triples, two home runs, 22 RBIs, and 32 runs scored. Marchal was named to the Region XIV South All-Conference Team as an infielder both seasons.
"Blake has the physical tools to play second base, shortstop, and third base," stated Koch. "We know that Blake will be able to fill any role that we place him in offensively and defensively."
Season tickets for the Victoria Generals 2012 season are on sale now as the TCL released the summer schedule earlier this week. Fans can buy season tickets and team merchandise at the Generals team store located at 3708 North Navarro, Suite A in the Landmark Shopping Center, online at www.VictoriaGenerals.com, or by calling 361-485-9522.